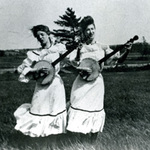 Song or Story
The Company Dressed in Green
Location
Black River Bridge, NB
Rights and Access Note
Rights assessment remains the responsibility of the researcher. No known restrictions on publication. For information about the process and fees for obtaining higher resolution scans or another file format, contact Special Collections.
Abstract
"The Company Dressed in Green" is descended from a 19th century Irish Broadside called "The Squire of Edinburgh Town," which is, in turn, a reworking of Child Ballad 221, "Katharine Jaffray." It tells the story of how a woman forced to marry against her will is successfully abducted from the wedding by her lover. It was particularly common in Northeastern North America.
Transcription
1. Oh, there was a squire, lived in Edinburgh town,/ And a squire of a high degree./ And he courted of this comely maid,/ And a comely maid was she.
2. Oh there was a farmer, lived in the East./ And he had one only son./ And he courted of this comely maid,/ Til he thought that he had her won.
3. Oh he got consent from old and young,/ From her father and mother likewise./ But still she cried, "I am undone,"/ While the tears roll from her eyes
4. Oh she wrote her love a letter,/ And she sealed it with her hand,/ Saying, "I am going to be wed,/ Unto another man."
5. Oh he wrote her back an answer./ And it was short and keen./ Saying, "Dress yourself in green, my love,/ And I'll dress in the same"
6. Oh he looked east and he looked west./ And he looked all over the land./ And he picked out three score of men,/ All of a noble clan.
7. Oh he mounted them on milk white steeds./ And green were all their clothes./ And he himself a single man,/ To the wedding house he goes.
8. All the company they did welcome them there,/ And a welcome man was he./ Saying, "Did you see any fairer troops,/ That rode along this way?"
9. Oh they handed him a glass of beer,/ And a cup of the wine so strong./ Saying, "Here's a health to the new Bridegroom,/ For he is a happy man.
10. Oh but ten times happier is the man,/ That will enjoy the bride./ Another loves just as well,/ And he takes her from his side"
11. Then up stepped the new bridegroom./ And an angry man was he,/ Saying, "If it is for fight you came/ I am a man for thee."
12. "It was not for fight that I came here,/ But my company for to show./ Give me one kiss from your lovely bride/ And away from you we'll go"
13. Oh he caught her by the slender waist./ And he grasped her by the sleeve./ And out of the wedding house he goes,/ While the company asked no leave.
14. All the drums did beat and the organs did play,/ Most glorious to be heard./ So now she is wed to her squire lad,/ And the company dressed in green. [spoken]
Keywords
Stanley MacDonald, Sandy Ives, Black River Bridge, New Brunswick, Miramichi, Child 221, Roud 93, Ballad, Broadside, Irish, Scottish, Border, Elopement, Abduction, Parental Opposition
References
Barry, Phillips. British Ballads from Maine. New Haven: Yale University Press, 1929; "Bodleian Library Broadside Ballads." Bodleian Library Broadside Ballads. Bodleian Library, Oxford University, 2000. Web. 06 May 2014; Buchan, David. "The Historical Ballads of the Northeast of Scotland." The Ballad and the Folklorist: The Collected Papers of David Buchan. Ed. W. F. H. Nicolaisen and James Moreira. St. John's, NL: Memorial University of Newfoundland, Folklore and Language Publications, 2014. 148-56; Child, Francis James. The English and Scottish Popular Ballads Vol. IV. New York: Dover Publications, Inc., 1965; Coffin, Tristram Potter. The British Traditional Ballad in North America: Revised Edition. Austin: University of Texas Press, 1977; Creighton, Helen. Songs and Ballads from Nova Scotia. New York: Dover Publications, Inc., 1966; Flanders, Helen Hartness. Ancient Ballads Traditionally Sung in New England Vol. III. Philadelphia: University of Pennsylvania Press, 1963; Flanders, Helen Hartness et. al. The New Green Mountain Songster: Traditional Folk Songs of Vermont. Hatboro, PA: Folklore Associates, Inc., 1966; Fowke, Edith. A Family Heritage: The Story and Songs of LaRena Clark. Calgary AB: University of Calgary Press, 1994; "The Green Wedding." Sing Out! Spring 2006: 76. Literature Resource Center. Web. 20 Nov. 2014; Moore, Ethel and Chauncey O. Ballads and Folk Songs of the Southwest. Norman: University of Oklahoma Press, 1964; Palmer, Roy. Everyman's Book of British Ballads. London: JM Dent and Songs Ltd., 1980; Pine Mountain Settlement School. Song Ballads and Other Songs of the Pine Mountain Settlement School. N.p.: n.p., 1923; Scott, Walter. Minstrelsy of the Scottish Border: Revised and Edited by T. F. Henderson Vol. I. Edinburgh: Oliver and Boyd, 1932; Scott, Walter. Minstrelsy of the Scottish Border: Revised and Edited by T. F. Henderson Vol. III. Edinburgh: Oliver and Boyd, 1932; White, Newman Ivey, and Frank Clyde Brown. The Frank C. Brown Collection of North Carolina Folklore Vol. II: Folk Ballads from North Carolina. Durham, NC: Duke UP, 1952; Würzbach, Natascha and Simone M. Salz. Motif Index of the Child Corpus. Trans. Gayna Walls. Berlin: Walter de Gruyter, 1995.
Disciplines
Ethnomusicology | Folklore | Oral History
Recommended Citation
MacDonald, Stanley. 1963. "The Company Dressed in Green." NA854, CD585.3. Northeast Archives of Folklore and Oral History, Raymond H. Fogler Library Special Collections Department, University of Maine.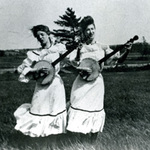 Rights Statement