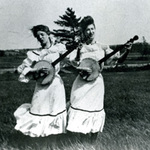 Song or Story
Young Florilla
Rights and Access Note
Rights assessment remains the responsibility of the researcher. No known restrictions on publication. For information about the process and fees for obtaining higher resolution scans or another file format, contact Special Collections.
Collector
Frank Worcester
Abstract
"Young Florilla" is a widespread American murder ballad which has been found throughout the United States and Canada. It is considered a "murdered sweetheart" ballad and is also known by the title "The Lone Green Valley" or "The Jealous Lover."
Transcription
1. Down by yon drooping willow/ Where the violets gently bloom/ There lies young Florilla/ So silent in the tomb
2. She died not broken-hearted/ Nor sickness her befell/ But, in one moment, parted/ From the one she loved so well
3. One night, when the moon was shining/ As bright as ever it shone/ Up to Florilla's cottage/ The treacherous lover came
4. He says, come love, let's wander/ Into those fields we'll stray/ And there we'll sit and ponder/ Upon our wedding day
5. She said, those fields look dreary/ And I'm afraid to stray/ Of rambling, I am weary/ So I'll retrace my way
6. He said, no, never again/ These fields and meadows roam/ So bid farewell, Florilla/ To parents and friends and home
7. Down on her knees before him/ She begged him spare her life/ But deep into her bosom/ He plunged that fatal knife
8. Oh Edwin, I'll forgive you/ She said with a dying breath/ And in one moment later/ She closed her eyes in death
9. The treacherous lover fled/ To other parts unknown/ And now Florilla's sleeping/ So silent in her tomb
10. Down by yon drooping willow/ Where the violets gently bloom/ There lies young Florilla/ So silent in her tomb
Keywords
Mabel Worcester, Frank Worcester, Hanover, Maine, Laws F1, Ballad, American, Murder, Knife, Sweetheart, Young Florilla, Jealous Lover, Lone Green Valley
References
Barry, Phillips. "Fair Florella." American Speech 3.6 (1928): 441-47. JSTOR. Web. 30 Oct. 2013; Belden, Henry Marvin. Ballads and Songs Collected by the Missouri Folk-Lore Society (University of Missouri Studies Vol. XV, No. 1). Columbia, Mo.: University of Missouri Press, 1966; Chapell, Louis W. Folk-Songs of Roanoke and the Albemarle. Morgantown, WV: The Ballad Press, 1939; Field, Arthur. "Why Is the "Murdered Girl" So Popular." Midwest Folklore 1.2 (1951): 113-19. JSTOR. Web. 6 Nov. 2013; Laws, G Malcolm. Native American Balladry: A Descriptive Study and a Bibliographical Syllabus. Philadelphia: The American Folklore Society, 1964; Lomax, John A. and Alan. Folk Song U.S.A. New York: The New American Library, Inc., 1966; Randolph, Vance. Ozark Folksongs Vol. II. Columbia, Mo.: The State Historical Society of Missouri, 1948; White, Newman Ivey, and Frank Clyde Brown. The Frank C. Brown Collection of North Carolina Folklore Vol. II: Folk Ballads from North Carolina. Durham, NC: Duke UP, 1952; Wilgus, D. K. "Ballad Classification." Midwest Folklore 5.2 (1955): 95-100. JSTOR. Web. 8 Nov. 2013; Wilgus, D. K. "A Tension of Essences in Murdered-Sweetheart Ballads." The Ballad Image: Essays Presented to Bertrand Harris Bronson. Ed. James Porter. Los Angeles, CA: Center for the Study of Comparative Folklore and Mythology, 1983. 241-53. Print.
Disciplines
Ethnomusicology | Folklore | Oral History
Recommended Citation
Worcester, Mabel. 1967. "Young Florilla." NA 467, CD 3.7. Northeast Archives of Folklore and Oral History, Raymond H. Fogler Library Special Collections Department, University of Maine.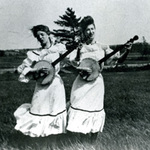 Rights Statement