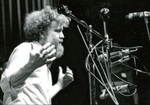 Song or Story
Rights and Access Note
Rights assessment remains the responsibility of the researcher. No known restrictions on publication. For information about the process and fees for obtaining higher resolution scans or another file format, contact Special Collections.
Abstract
In short, Acadians did not allow harsh weather, poor soil conditions, and an uncertain (or even hostile) political conditions to limit their culinary choices.
Transcription
Transcript: The traditional Acadian dinner that, to our tradition, would be pot-en-pot, which is the main meal, that is like a – my best description to it would be like a very thick stew, because it's made with, I use, it's usually made with moose meat, deer meat all kinds of wild game and stuff. But I make it with, because naturally at the restaurant I can only sell something that's USDA approved, so I use beef, chicken, and pork in mine with potatoes, onions. Then you layer that with dumpling, which dumpling is just made with flour, salt, and water. Put a little bit of water and chicken soup base in there, and different, I use sarriette, which is summer savory, and you put that in there, and that's it. Just bake it in the oven for about five hours and you serve it just like that. That would be the main meal.
And we had soupe aux pois, which is pea soup, my yellow pea soup not the green one because nobody likes the green one up home. I know it's so funny because one time I had made it at the café, the green one, because they ran out of yellow peas. And I said, "I have pea soup" and they said, "Ooh…" And I opened up the lid and they saw them and they said, "Ugh what is that?" And I said, "It's pea soup." It tastes exactly the same, but it's just that, I think visually they were thinking yellow, and I couldn't save – one of them told me, he said, "That's save the whale soup." And I said, "What do you mean, 'save the whale'?" And he said, "Green peace." I said, "Okay." So anyways, so that's what I called it after.
But anyways, so we had the soupe aux pois, the pot-en-pot; tourtière is very, very traditional in an Acadian dinner, but also at Christmas time you'll have to have tourtière up at Christmas because it's not Christmas without tourtière. And tourtière is made with pork and the different spices, like I was saying in Acadian cooking, cinnamon and cloves are very, very common in Acadian cooking, they're the basic spice of Acadian cooking. You'll put that in there with allspice and salt and pepper, and you put that in a pie, and that's the meat pie, like a traditional Canadian meat pie they'll call it, ortourtière. And then, we had fougère, which is fiddleheads, as the vegetable, and then we had theployes, which you can't have an Acadian dinner without ployes, and the ploye is a buckwheat pancake, which I think is probably the Acadian tortilla, to what Mexicans are you know what I mean, because it's another source of bread. You can do anything with it, roll hot dogs in it, you can do anything, you know. And then naturally the baked beans are thrown in there and that's pretty much an Acadian dinner.
Keywords
Michael Corbin, Rob Rosenthal, Madawaska, Maine, Acadian cuisine, St. John Valley, tourtiere, pot-en-pot, sarriette, soupe aux pois, fougere, ployes
References
More of Michael Corbin's Story Bank session is available at Story Bank Maine. For more on Acadian cuisine, check out Cormier-Boudreau, Marielle & Melvin Gallant. A Taste of Acadie. Fredericton, NB: Goose Lane Editions, 1991.
Disciplines
Folklore | Oral History
Recommended Citation
Corbin, Michael. 2008. "Acadian Food." NA3263, CD2073.3. Northeast Archives of Folklore and Oral History, Raymond H. Fogler Special Collections Department, University of Maine.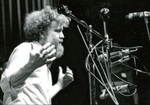 Included in
Rights Statement