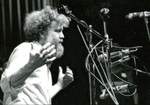 Song or Story
Files
Download P8467: Rodney Richard Sr. (center) and Butch Richard (left) carving fan towers at the American Folk Festival; Peggy Yocom is on the far right. (358 KB)
Download P4062: Wood carving of a man and horse. (66 KB)
Download P4064: Variety of wood carvings, mostly animals. (93 KB)
Download P4070: Large wood carving. (88 KB)
Rights and Access Note
Rights assessment remains the responsibility of the researcher. No known restrictions on publication. For information about the process and fees for obtaining higher resolution scans or another file format, contact Special Collections.
Author
Gaylon "Jeep" Wilcox
Abstract
"The Mad Whittler" is about Rangeley's former dump, which may not sound like a traditional subject for poetry. The dump was, before being closed, a major attraction where people from all over gathered to watch bears forage.
Transcription
The Legion Hall was full, that night in town, A discussion on bears, the population was down. Business folk from town and the Chamber of Commerce All agreed the situation couldn't be worse.
For to watch the bears was a "drawing" event, Which a lot of tourist dollars each years was spent. Sportsmen and Guides, they were concerned too, For without lots of bears, what would they do?
When up spoke Rodney, being slightly amused, "To attract something, a good decoy is used. Now you folks don't worry, I have a plan That will give us more bears, if anything can."
He whittled all night; he whittled all day, He whittled Saddleback nearly all away. When he finished, the results were good, One decoy, where every tree had stood.
And one month later, as the sun went down Bears were still coming from miles around. Three cheers for Rodney, he deserves a hand For bringing back the bears, all over our land.
We should whittle out a Rodney, erect it in a park Surround it by lights, to be seen in the dark. At his feet we should carve this sign – "Rodney the Mad Whittler, A Legend in His Time."
Keywords
The Mad Whittler, Gaylon "Jeep" Wilcox, dump, Rangeley, poetry, poem, bears, garbage, Rodney Richard Sr., decoys, tourism, whittling, William Richard, fan towers
References
Rodney Richard, Sr. founded and Peggy Yocom curates the Rangeley Lakes Region Logging Museum. To read more about the Richard family of wood carvers: Yocom, Margaret. "'If we don't joke with each other, we won't have no fun, will we?' Storytelling in the Richard Family of Rangeley, Maine," in MacDonald, Margaret Read, ed. Traditional Storytelling Today. Chicago: Fitzroy Dearborn, 1999, 416-27 & "Exuberance in Control: The Dialogue of Ideas in the Tales and Fan Towers of Woodsman William Richard of Phillips, Maine," in MacDougall, Pauleena and David Taylor, eds. Northeast Folklore: Essays in Honor of Edward D. Ives, Orono: University of Maine Press, 2000, 265-95. For more on Jeep Wilcox: Yocom, Margaret and Gaylon Wilcox. "'Just call me Sandy, son': Poet Jeep Wilcox's tribute to Sandy Ives." in MacDougall, Pauleena and David Taylor, eds.Northeast Folklore: Essays in Honor of Edward D. Ives, Orono: University of Maine Press, 2000, 405-14.
Disciplines
Folklore | Oral History
Recommended Citation
Wilcox, Gaylon. 2011. "The Mad Whittler." NA1582. Northeast Archives of Folklore and Oral History, Raymond H. Fogler Special Collections Department, University of Maine.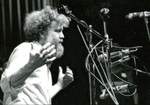 Included in
Rights Statement