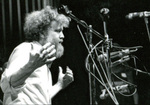 Song or Story
Location
South Bristol, ME
Rights and Access Note
Rights assessment remains the responsibility of the researcher. No known restrictions on publication. For information about the process and fees for obtaining higher resolution scans or another file format, contact Special Collections.
Abstract
Maine has a long and broad tradition of boat building, and in many coastal towns boat launches were a social event.
Transcription
When it come time to launch, these, course, had cradles with timber, heavy timber. And between the piece that went on the ways and the one above that was all wedged up by hand, top mauls. I think there was four of us in a bunch. I helped launch most of them. I think I launched on one. We would go along and drive the wedges, about six hits each man, then the next man take over and drive again. That's the way it went up through 'til she lifted off the blockings. And then we crawled up through on our hands and knees and took the blockings out from under her. That was not a good feeling, 'specially when you get up to a hundred, hundred and ten foot. Once they're up, then there was, well, the way was here, and the block ahead with oak cleats to the two bolted. Then you took a skill saw, either a skill saw or a crosscut saw, and those were sawed. They was graduated so you'd go down an inch or two inches or three. And when you'd go down so far and they would crack and let go – she would launch, slide right in. [A: You didn't know that's how they did it? Crawled right up under like?] Yeah, all the launching crew had to crawl up 'longside the keel and take the blockings out. And I don't know how many there was like that, quite a number of 'em.
[E: Did you have to get your nerve up the first time you did that?] Well, I don't know 'cause I had done it in Damariscotta before. [E: Were launchings always a big event?] Yes. [E: Lots of people would come?] I would have to guess at this, I would say 'tween five hundred to a thousand to a launching a good many times. And he built 'bout three, maybe four boats a year. He wouldn't call 'em boats; he'd call 'em vessels. And I know when we'd launch one, he always looked ahead whether he had an order or not. This is where Earle Haley and I come in. All the frames, or a big part of the frames, Earle and I sawed and put together, And then after a — went out the doors, the door wouldn't even be closed [and] there'd be another keel in the place of that one, and before the day was over there'd be anywheres from four to a dozen frames set up on that keel. He had quite a system.
Keywords
South Bristol, Boat Launch, Pete McFarland, Maine, boats, Earle Haley, Gamage's Shipyard, Harvey Gamage, story
Disciplines
Folklore | Oral History
Recommended Citation
McFarland, Pete. 1997. "Boat Launch." NA3018, C2065. Northeast Archives of Folklore and Oral History, Raymond H. Fogler Special Collections Department, University of Maine.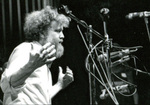 Included in
Rights Statement