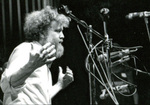 Song or Story
Rights and Access Note
Rights assessment remains the responsibility of the researcher. No known restrictions on publication. For information about the process and fees for obtaining higher resolution scans or another file format, contact Special Collections.
Abstract
The story told here explains the process of teaching traditional medicine to a new generation. In Natalia Bragg's case, it was something of an accident.
Transcription
Well the fact that, of what I do, the fact it is not just what I do, it is also what I am. And I was very sickly when I was tiny, and didn't get a clean bill of health until I was nine years old. So, even though I'm from a big family, I didn't get to run and play with the rest, I got to stay with the elders, and because I got to stay with the elders, I was privy to what was going on unbeknownst to all the rest of the family members, and because I got to know what plants, and got to go with them, because they were at a much slower pace, and I wasn't to get over-tired, and I wasn't, I was supposed to rest and the older people went at a smaller pace, a slower pace. So I learned from the time I was four what you used for this, and what plants you harvest for that, and I also learned that you didn't talk about it; because, as my grandmother would quote me, what goes on in somebody's underwear drawer is not your business, and if you know about it, it really isn't your business so you can't talk about it. So I never talked about it, we just never talked about it. You did not talk about what somebody in the family was using for diarrhea, you did not talk about the things that went on in the family that everyone wasn't privy to, and so if you knew it, you had to keep it to yourself.
And so, in 1995, when I opened my farm to tours, because I had to for economic reasons in order to hang on to the farm, as I opened the farm to tours, more people were interested in what I was doing for this, that, and something else, than they were in the animals, and the butter, and the cheese, or the stick-making, or apple wood pencils, or anything else that I was doing; they were interested in what I did for certain things. And then the first few times I was asked, it was kind of facetious, and they said, "Well I'll bet you got something for this, too." And I said, "Yes, I do have something for this." And the next question would be, "Well does it work?" And I would very happily say, "Well if it didn't work, I wouldn't be spending six – four to six weeks of my time doing it." So then the next question is, "Well could we get a sample? Do you have a sample?" Well I only made it for my family at that point so, that was a large family, but still just for our family, and I would give them a little baby food jar with a sample in it, and I have thirty-one products now that is in my catalog, and they've been added by the request of people that use my products, and eighty percent of all that I do is repeat customers, and they have been with me, some of them, for twenty years. But, in order to see that my traditions don't die, I feel as though I have to prove that they work exactly the way they were meant to work, and I also teach the making of them, I don't tell you my formulas, but I teach you how to make a formula so, and maybe your formula will be better than mine. But, to have a complete apothecary, and that means all the things that would normally go wrong for a person, and that would be head cold, sinuses, pain, bones and ligaments, skin rashes, first aid cream, cramping agents, all of these things are things that make a complete herbal apothecary. And believe it or not, we have all of the things that we need right here in our environment.
Keywords
Wade, Learning Family Healing Traditions, Natalia Bragg, folk medicine, herbal medicine, family traditions, salves, creams, oils, plants, story
Disciplines
Folklore | Oral History
Recommended Citation
Bragg, Natalia. 2008. "Learning Family Healing Traditions." NA3624, CD2074.1. Northeast Archives of Folklore and Oral History, Raymond H. Fogler Special Collections Department, University of Maine.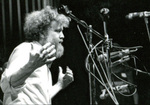 Included in
Rights Statement