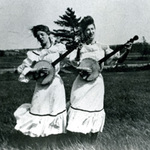 Song or Story
Location
Dungarvon River in central New Brunswick
Rights and Access Note
Rights assessment remains the responsibility of the researcher. No known restrictions on publication. For information about the process and fees for obtaining higher resolution scans or another file format, contact Special Collections.
Abstract
The Dungarvon Whooper is arguably the most famous ghost in New Brunswick (the Burning Ship of Northumberland Strait is also widely known in eastern Canada, but multiple provinces can claim it as "their ghost").
Transcription
1. Oh, the fishermen are comin' to Charles Green's and so it's said, They are going to Dungarvon you must go one day ahead; And Bruce will go along with you with his wagon and his team, For to haul the boat and luggage through to the Dungarvon Stream.
2. It was early the next morning, just at the dawn of day, We launched our boats, our paddles drew, we soon got underway To go as far as Porter's Cove, ' bout nine miles down the stream, Where Bruce agreed to meet us with his wagon and his team.
3. According to agreement, bold Alex met us there. We loaded up our wagon; for the road we did prepare. We bound our stuff on carefully to the best of our skill, For we knew there'd be hard hauling going up Bill Porter's Hill.
4. We worked our way up Porter's Hill and got on level ground. I'm sure that were ten miles or more you could see all around. You could see the city of Boiestown with its steeple built so high, The theater on the portage all with the naked eye.
5. The night we reached Dungarvon the stream was very low; The horses they were weary and we could no further go; We built a fire large and high to camp there for the night, But the Dungarvon Whooper was the terror of the night.
6. There was beasts of all description; the bear and kangaroo; The wildcat, wolf, and Indian devil; the moose and caribou; The wolverine and porcupine; the skunk (they don't smell right). But the Dungarvon Whooper was the terror of the night.
7. For when this monster he came forth, the rest did disappear, And believe me, my good people, it did banish all our fear; It left us but the one to fight, and we felt very sure That we could beat any Whooper that was on Dungarvon shore.
8. We fought like valiant heroes until the dawn of day, And when he saw that he was beat he was forced to run away. As he was going to leave us he gave one long last wail, And I saw him knock down little trees by the wagging of his tail.
9. It was the next morning early, just at the break of day, Poor Scott was taken with the cramps, those words I heard him say, "My side and back and arms does ache, my arms and legs are sore." Some thought he strained his muscles in the fight the night before.
10. Now come all you salmon poachers who hide along the shore, Keep one eye always open and look out for Robert Orr, For if you don't you may repent, and that will be quite soon, He'll capture you and your canoe like he done Tommy Munn.
11. Now when we reached the settlement the news was no surprise, To see that we were so deceived by Tom's infernal lies; He told us that the stream was full of salmon, grilt [sic], and trout, But he never said with net and spear he went up and fished them out.
12. So now my song is ended and I wish no man no ill, And I hope next year we all appear and gather at Burnt Hill, And may the flies be very few and scarce around the place, But not so bad as when Tom had to put shoe black on his face.
Keywords
Billy Price, Sandy Ives, Dungarvon River, New Brunswick, ghost, Dungarvon Whooper, lumbercamp, Abraham Munn, murder, robbery, cook, Michael Whelan, Louise Manny, Miramichi, John Thompson's Hill, fishing, salmon, poacher, satire, Roud
References
Manny, Louise, and James Reginald Wilson. Songs of Miramichi. Fredericton: Brunswick Press, 1970, 78-85. Also see: NA 15, NA 43, NA 78, NA 107, NA 108, NA 138, NA 164, NA 214, NA 260, NA 271, NA 272, NA 294, NA 331, NA 294, NA 331, NA 350, NA 383, NA 385 for variants of the Dungarvon Whooper story from New Brunswick and Maine.
Disciplines
Ethnomusicology | Folklore | Oral History
Recommended Citation
Price, Billy. 1962. "The Dungarvon Whooper." NA62.5, CD65.11. Northeast Archives of Folklore and Oral History, Raymond H. Fogler Special Collections Department, University of Maine.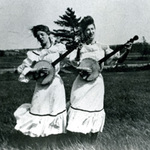 Rights Statement