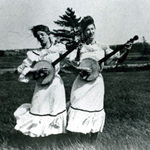 Song or Story
Files
Location
Union River near Great Pond, ME
Rights and Access Note
Rights assessment remains the responsibility of the researcher. No known restrictions on publication. For information about the process and fees for obtaining higher resolution scans or another file format, contact Special Collections.
Abstract
"John Roberts" is one of many woods songs that tells the sad tale of a river driver who died on the job.
Transcription
1. Come all ye fellow men, from far and near, A melancholy tale to hear; One of our fellow mortals, he Has gone to his long eternity.
2. John Roberts as we understand, It was the name of this young man; Whose fate we hope will a warning prove To all who do these lines pursue.
3. He hired out with Mr. Brown, To help him drive his lumber down; On the West Branch, where he did go, Which quickly proved his overthrow.
4. 'Twas of a lowery sky, This young man left his home to die; When from his home he did depart, A gleam of hope twined round his heart.
5. He ventured out to break a jam, Which had begun on the rolling dam; But when he started for the shore, He sank, alas, to rise no more.
6. We think he got his fatal blow, While struggling in the undertow; By some huge rock beneath the waves, Where soon he found him a watery grave.
7. We searched the stream from shore to shore, His lifeless body to secure; Trusting in God to guide the way, Unto his tenement of clay.
8. 'Twas on the third day at three o'clock, When Mr. Filsber [sic] took his boat, And with a grapple in his hand, He raised him from his bed of sand.
9. A message then was sent away, These mournful tidings to convey, Unto his tender parents dear, To tell them that they'd see their son no more.
10. And in due time a bier was made, And on it was his body laid; Born to the grave where he shall lie, Til Gabriel's triumphs shall render the sky.
11. We fellow men, we too must die, And go to our long eternity; So let us live while here below, Love God and all his paths pursue; And let us live in Christian love, And go with him to reign above.
Keywords
Clarence Berry, Muriel Watts, Great Pond, Aurora, Jacksonville, Maine, Union River, river drive, logjam, ballad, lumberwoods, death on the job, John Roberts, Jam on Gerry's Rock, Peter Emberly, The West Branch Song, 1859, roll dam, Roswell Silsby, Roud, Laws
References
Eckstorm, Fannie Hardy and Mary Winslow Smyth. Minstrelsy of Maine: Folk-Songs and Ballads of the Woods and the Coast. Boston and New York: Houghton Mifflin Company, 1927, 45-48; Ives, Edward D., ed. "Folksongs from Maine," Northeast Folklore, VII (1965), 36-40; Laws, G. Malcolm, Jr. Native American Balladry. Revised Edition. American Folklore Society, Bibliographical and Special Series, 1. Philadelphia: American Folklore Society, 1964, 148-48 (C3). For another version, see Gray, Ronald Palmer. Songs and Ballads of the Maine Lumberjacks with Other Songs from Maine. Cambridge: Harvard University Press, 1924, 22-23. For further reading on the Union River, see Edward D. Larry Gorman: The Man Who Made the Songs. Fredericton, NB: Goose Lane Editions, 1993, 79-103.
Disciplines
Ethnomusicology | Folklore | Oral History
Recommended Citation
Berry, Clarence. 1963. "John Roberts." NA420, CD10.2. Northeast Archives of Folklore and Oral History, Raymond H. Fogler Special Collections Department, University of Maine.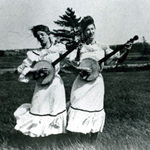 Rights Statement