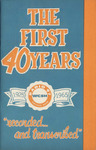 Description
A pamphlet on the history of broadcasting in Maine prepared to commemorate the 40th anniversary of WCSH Radio in Portland (1925-1965). Provides details on four other stations in the Maine Broadcasting System. Includes several photographs.
Contents: Commercial Radio Comes To Maine -- Early Programming -- Enter the Network -- Religion On The Air -- In The Public Service -- Radio Broadcasting Matures -- Radio Reports The News -- People And Places -- Out Of The Past -- A Look At Present And Future -- WRDO, Service For Kennebec Valley -- WLBZ, Pioneer of Northeastern Maine -- WCSH-TV, Six For South Central Maine -- WLBZ-TV, Two Becomes MeBS No. 5.
Rights and Access Note
Published prior to 1977 without copyright notice. In the public domain due to failure to comply with required formalities.
Keywords
broadcasting, Maine, television, radio, communications, journalism, William H. Rines, Uncle Hezzie, Jean Murray, Admiral Richard E. Byrd, Eddie Owen, Irving Hunter, Lyndon B. Johnson
Disciplines
History | Radio
Recommended Citation
Maine Broadcasting System, (January 01 1965) "The First 40 Years: "Recorded--and Transcribed"". WLBZ Radio Station Records. Special Collections, Raymond H. Fogler Library, University of Maine.
https://digitalcommons.library.umaine.edu/wlbz_station_records/195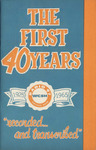 Included in
Rights Statement