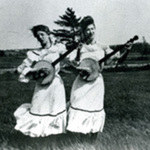 Song or Story
Walter Mullin
Location
Whitney, New Brunswick
Rights and Access Note
Rights assessment remains the responsibility of the researcher. No known restrictions on publication. For information about the process and fees for obtaining higher resolution scans or another file format, contact Special Collections.
Abstract
"Walter Mullin" is a patriotic ballad from Canada. Written by Wallace Travis about a friend who died in World War I, the ballad never ranged far from Whitney, New Brunswick (the song uses the town's older name, Whitneyville). The song was included in Louise Manny's Songs of Miramichi, but has not been published anywhere else. It was, however, a popular song in the early years of the Miramichi Folksong Festival. It was likely based on a poem "The Graves of a Household," by Felicia Henmans (1793-1835).
Transcription
Note: Some of the lyrics were difficult to understand and our best guesses are marked in brackets.
1.
They grew in beauty side by side, they filled one home with glee,
But now one sleeps beneath the sod, across the dark blue sea.
That same fond mother oft times watched her children at their play,
She never dreamt that one dear boy, would go so far away.
2.
But that dear mother can be proud, she raised a son so brave;
He faced the deadly cannon, his country for to save.
Oh, Whitneyville, my native home, the land that gave me birth,
When but a boy thou was to me, the dearest place on earth.
3.
You sent one gallant hero forth, across the raging main,
Where the cannon sing [the song of kill], and the bullets fly like rain.
Did he hang back, afraid to go, when he heard his country call?
He was brave, he was true, and he knew what it meant, if the dear old flag should fall.
4.
He loved his native country, and his heart was true and brave,
So he changed his home in Whitneyville, for a Canadian soldier's grave.
Oh, my heart it was so very sad, when I heard my comrade fell,
For he and I were close schoolmates, and we loved each other well.
5.
We sat together side by side, in the dear old country school;
It was there we did the best we could, to obey the Golden Rule.
Oft times we teased the little girls, and made the teacher mad,
But we took the bitter with the sweet, and a jolly time we had.
6.
When our country called for volunteers, my comrade he did go,
Across the angry [billows,] to fight old England's foe.
He reached the angry battlefield, where the [shot there did fly,]
And there he faced the enemy, with a keen and a steady eye.
7.
The bullets whistled by him, and close to him did go,
At last the fatal one is landed, my comrade was laid low.
Oh, how it grieved his mother dear, when the news came from afar,
That her son was killed in action, in the European war.
8.
But as the sad years rolled along, she can the story tell,
That her son took part in that great war, and in the battle fell.
Oh, Whitneyville, my native home, why are you holding back?
Why don't you go and do your bit, to save our Union Jack?
9.
I know it is nice by the fireside, on a cold and wintery night,
And a cozy bed looks snug and warm, but what about the fight?
Are you going to sit in your old arm chair, and let others do it all?
Is it nothing to you if we win or lose, or in the battle fall?
10.
You have feasted on the honey, of our native land,
Now you are wanted at the front, and you will not take your stand.
Oh, why can't you be like Walter Mullin, a man so true and brave?
Who laid down his life on the battlefield, your country and mine to save.
Keywords
Walter Mullin, ballad, Canada, New Brunswick, Whitney, Whitneyville, Roud 9184, Marie Hare, Lee Swearingen, Wallace Travis, WWI
Disciplines
Folklore | Music | Oral History
Recommended Citation
Hare, Marie. 1972. "Walter Mullin." NA1526, T1625. Northeast Archives of Folklore and Oral History, Raymond H. Fogler Library Special Collections Department, University of Maine.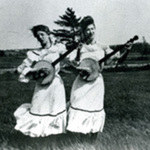 Rights Statement