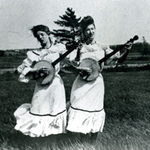 Song or Story
Rights and Access Note
Rights assessment remains the responsibility of the researcher. No known restrictions on publication. For information about the process and fees for obtaining higher resolution scans or another file format, contact Special Collections.
Abstract
"The Old Beggar Man" is a version of Child 17, "Hind Horn." It is believed to have originated in Scotland and possibly derived from the 13th century King Horn and other related medieval romances.
Transcription
1. "Where were you born and where were you bred, In Scotland town in a foreign counteree?" "In Scotland town where I was born, 'Twas there were a maid and she gave to me a ring."
2. "If this ring proves bright and clear, You'll know that I'm true to you my dear, And if this ring proves pale and worn, You'll know that your true love is with another man."
3. I shipped on board and away sailed I; I sailed away to a foreign counteree I looked at the ring, 'twas pale and worn; I knew that my true love was with another man.
4. I shipped on board and back sailed I; I sailed back to my own counteree. One day as I was a-riding along, Whom did I meet but a poor old beggar man.
5. "What news, what news have you today? What news have you got for me today?" "Sad news I've got for you today: Tomorrow is your true lover's wedding day."
6. "Come and take my riding suit, And I will take the beggar's suit." "The riding suit is not fit for me. The beggar's suit is not fit for thee."
7. "Never mind if it's right or wrong." The beggar's suit he did slip on. He toddled away at a weary rate; He laid his sack at yonder gate.
8. He begged from the parlour, he begged from hall; He begged from the poorest and the richest of them all. But as for wine he'd drink none at all Unless he'd get it from the bride's own hand.
9. Down came the bride a-skipping down stairs, With rings on her fingers and gold in her hair, And in her hand a glass of wine To give it to this poor old beggar man.
10. Out of the glass he drank the wine, And into the glass he slipped the ring, "Did you get it by land or on sea, Or did you take it off a drowned man's hand?"
11. "I didn't get it on land or on sea. I didn't take it off a drowned man's hand. I got it from my true love on our courting day And given it back to her on her wedding day."
12. Rings from her fingers she did pull off, And gold from her hair she did let fall. "I'll follow my true love wherever he goes. Although he begs my bread from door to door."
13. Between the kitchen and the hall, The beggar's ring he did pull off. The gold that shone the brightest of them all; He was the finest young man in the hall.
Keywords
The Old Beggar Man, Miminegash, Prince Edward Island, ballad, wedding, beggar, love, ring, Child 17, King Horn, Edmund Doucette, Sandy Ives
References
Child, Francis J. The English and Scottish Popular Ballads. New York: Cooper Square Publishers, Inc., 1962, 187-208 (C17); Barry, Phillips, Fannie Hardy Eckstorm, and Mary Winslow Smyth. British Ballads from Maine. New Haven: Yale University Press, 1929, 73-80; Ives, Edward D.Drive Dull Care Away: Folksongs from Prince Edward Island. Charlottetown, PEI: Institute of Island Studies, 1999, 72-73, 252; Ives, Edward D. "Twenty-One Folksongs from Prince Edward Island," Northeast Folklore, V (1963), 11-13, 19-22, 83; Bronson, Bertrand H. The Traditional Tunes of the Child Ballads. Vol. I. Princeton, NJ: Princeton University Press, 1959, 254-64; Doucette, Laurel, and Colin Quigley. "The Child Ballad in Canada: A Survey," Canadian Journal for Traditional Music, 9 (1981), 3-19; Flanders, Helen Hartness. Ancient Ballads Traditionally Sung in New England.Vol. 1. Philadelphia: University of Pennsylvania Press, 1960, 223-5; Fowke, Edith. Traditional Singers and Songs from Ontario. Hatboro, Pa.: Folklore Associates, 1965, 179; Leach, MacEdward. The Ballad Book. New York: Harper and Brothers, 1955, 11+; Muir, Willa. Living with Ballads. New York: Oxford University Press, 1965, 97-107; and Wells, Evelyn K. The Ballad Tree. New York: The Ronald Press Company, 1950, 130.
Disciplines
Ethnomusicology | Folklore | Oral History
Recommended Citation
Doucette, Edmund. 1958. "The Old Beggar Man." NA1.34, T34. Northeast Archives of Folklore and Oral History, Raymond H. Fogler Special Collections Department, University of Maine.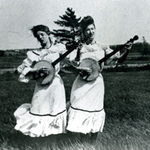 Rights Statement