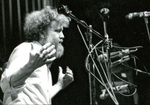 Song or Story
Location
Glenwood, New Brunswick
Rights and Access Note
Rights assessment remains the responsibility of the researcher. No known restrictions on publication. For information about the process and fees for obtaining higher resolution scans or another file format, contact Special Collections.
Motif
E281 (ghosts haunt house), E291 (Ghosts protect hidden treasure), E422.1.1 (Headless revenant), & H1411 (Fear test: staying in haunted house).

Type: 326 (The youth who wanted to learn what fear is)
Abstract
"The Headless Ghost" is a common story told with too many variations to count.
Transcription
Well, the way that story goes, you know, it's when I went on a hitch-hiking trip. In the first place of that story I went on a hitch-hiking trip. That was in the thirties when things were awful poor, see. Well, anyway I traveled down through the states, and I come to a place and I didn't have no money. I was just bumming, you know, hitch-hiking through, so I wanted a place to stay all night, see.
So this fella said to me, "Well, there's a house right across the road there, and you can stay in that house. It won't cost you nothing, but remember: if you happen to hear anything in it…"
"Well," I said, "Well, what's the cause of it?"
"Well," he said, "I was told this house was haunted, see."
"Well," I said, "I figure I can stay about as long in that house as a ghost can, for I don't believe in that stuff."
"Well," he said, "Go ahead."
So I went over and I stayed all night in the house, and he come over the next morning, and he asked me how I put the night, and I said, "Fine."
And he says, "You'd better stay around for a few days." So he gave me a job. I done a little work in the garden and stuff like that, and I thought to myself, "Well."
"If you're looking for a job," he said, "Maybe in a couple of weeks time I can pick you up a job. You can stay around here for your board." So I done little jobs around his place [for] my board, anyway, and I stayed in this house every night.
So they was two young fellas [the man's sons] come back one night and I got acquainted with them. They was the MacKinnon boys. So anyway they asked me how do I like to stay there.
"Oh," I says, "Great. I likes it fine," I said. "I wonder why didn't your father ever stay in this house? You take a nice property like this, a beautiful house like this, well, why didn't he stay in this house? Why did he go way across the road and out in front of the place there and build, and leave a home like this locked up when I come here?"
He says, "Why? Did you hear anything here?"
I said, "No, I didn't, but the other night, – 'course I don't put no [pass] on this – but the other night, the other guy [referring to another hired hand] wanted to stay with me here in the house, and he went out to town, over to town. In fact, he was going out to the show. Well, there was no one around and I didn't know too many around here, so I just went upstairs and I lay down on the bed."
Well, one fella said to the other, he says, "Let's go home, Bill."
"Oh," I says, "Boys, don't be scared, I'm going to tell you what I seen and what I heard. But [there's] nothing here to harm you. So I was laying in the bed, and the first thing I heard, the other fella come in – Crump! Crump! Crump! – downstairs, and he takes off his boots – Clump! – on the floor, his big boot fell. I said, 'That's the other guy now. He's back from town, maybe half-drunk, for all we know.' So I was laying in the bed and he come right upstairs and come in, and I wondered [why] he'd gone back downstairs again. [The] old stairs [went] creep, creep, creep, so I looked and there's a man going down the stairs, but he's got no head. The head's right off from the shoulders. And I said to myself, 'Am I seeing things?'"
And he said, "Let's go home, Bill!"
"Oh," I said, "Boys, never mind. Wait 'til I finish this story [of] what I seen. He walked around stairs, down in the old kitchen – Crumpty! Crumpty! Crumpty! By-and-by he comes upstairs, and when it come to the top of the stairs, what slid by my bed but a great big, black casket."
And he says, "What did you do?'
I said, "What would you have done? This lid just slowly opened like that [demonstrates] and it come right back and up sat the man. No head. So I said to him…"
He says, "What did you do?"
"Well, now," I said, "I'll just tell you now, boys, what I done. I said to him, 'In the name of God, what do you want with the like of me?' He says, 'I don't want nothing of you, but eleven years ago I was murdered here for my money and I'll tell you where it is, and who murdered me.' 'Well,' I said, 'Go ahead.' He kept stalling me, and I'd a sooner for him to have went than tell me, for I was pretty scared then. So he just kept on telling me, 'I will tell you who murdered me and what they murdered me for and where my money is.'"
So I got them foolish enough to ask me the question. He says, "Who murdered him?"
Now, I says, "Look, boys, now I want to tell you right here who it was, but don't you tell."
He said, "No."
"He told me your father murdered him here for his money, and he never got the money."
So Bill said, "GOD HELP US," he said, "DADDY NEVER MURDERED A MAN IN HIS LIFE!"
So I had to take the two boys, which were seventeen year old, one in each hand, and walk them home. They were pretty scared lads.
Keywords
Wilmot MacDonald, Sandy Ives, The Headless Ghost, ghost story, Glenwood, New Brunswick, joke, hitch-hiking, haunted house, hidden treasure, Helen Creighton, murder
References
Ives, Edward D. "Eight Folktales from Miramichi," Northeast Folklore, 4 (1962), 61-67; & Ives, Edward D. "Wilmot MacDonald at the Miramichi Folksong Festival," Northeast Folklore, 36 (2002).
Disciplines
Folklore | Oral History
Recommended Citation
MacDonald, Wilmot. 1961. "The Headless Ghost." NA1.113, CD147.9. Northeast Archives of Folklore and Oral History, Raymond H. Fogler Special Collections Department, University of Maine.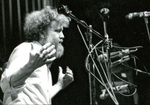 Included in
Rights Statement