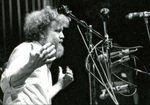 Song or Story
Rights and Access Note
Rights assessment remains the responsibility of the researcher. No known restrictions on publication. For information about the process and fees for obtaining higher resolution scans or another file format, contact Special Collections.
Collector
Laura Finkel Streett
Abstract
This story describes a strike that took place at the Ounegan Woolen Mill in Old Town and explains how students at the University of Maine became involved.
Transcription
D: It was very much – and I suspect it was probably true in most chapters of SDS outside of a few areas like Berkeley and University of Michigan and maybe Columbia or so – it really got driven by local issues as much as anything else. For instance, SDS at Orono probably had, of all the SDS chapters in the country, probably had the strongest ties with organized labor. There were a number of activities that we got involved with, supporting the Ounegan Woolen strike in Old Town, or the Pepsi-Cola bottling strike in Brewer, or the Boot and Shoe Workers efforts in a couple of factories, primarily in the Pittsfield area. So there was a lot more relationship between local working people and students than you normally found in SDS. SDS had a tendency nationally to be kind of elitist, whether they'd admit it or not. And I think that, even though there's always a tendency with college kids to have a certain element of elitism there, I think there was a conscious effort on the part of SDS to really try and struggle against that and to maintain those kinds of ties with working folks in the area.
L: So what kind of relationship was there with organized labor? I've read the thank you notes from the union members, but what sort of interaction did you have? How did they feel about SDS?
D: They, at that point, were usually in situations that were fairly critical and they really didn't care who it was that was coming out to stand up for them, 'cause they were up against some pretty strong forces from management. And in many instances the State Police who acted as if they were the left arm of the management.
A good example would be the Ounegan Woolen Mill strike up in Old Town. They had been out on strike for about eighteen weeks, I think, at that point when we really started getting actively involved. We'd had some conversations with some of the local union people, saying, you know, "What can we do?" And they said, "Well, you know, we really need you to do a lot of things." Finally they settled on the idea of needing more publicity to the strike. They needed to get a lot of visibility beyond the community. So we agreed we would organize students on campus to come down for one day to have a very visible demonstration in support of them. And they were delighted to have us join it but it was really their local union people who were doing this rather than the national union folks who were based in the state…
And it was remarkable the reaction that came out of that one. We had, it was probably a hundred and twenty-five to a hundred and fifty students that came down one afternoon. We walked the line from like two to five. And the TV cameras were all there and the police, the state police just rolled up in droves. They probably had twenty-five or thirty state troopers in full uniform with big billy clubs. Plus, the local police, plus a lot of folks that were kind of running around with their sunglasses and something in their ears so that made us suspect that they were the plain clothes folks, which would suggest that maybe you had as many as fifty or sixty cops there to take care of a hundred and twenty-five college students, almost all of whom were in dresses or sport coats and ties. This was Middle America, really, up there on the line. These were folks who believed in the American Dream and had been persuaded that there was a really unfair situation in Old Town and could they come out and lend their support. These were not the folks that were depicted as the "radicals," the folks with the long hair, smoking a joint as they walked the line…
But it was that type of person who was up there on the line. These were kids that were as middle class as they came. And some of them got fairly radicalized just by seeing what happened. But it ended rather rapidly. Within seventy-two hours after the demonstration and all the TV and radio coverage that went along with it, Governor Curtis intervened in the strike and led to some resolution of it. It wasn't a perfect resolution but it did get some of the issues resolved.
Keywords
The Ounegan Mill Strike, Richard "Dick" Davies, Old Town, Maine, story, University of Maine, woolen mill, Textile Workers Union of America, strike, scabs, Local #1485, Students for a Democratic Society, Governor John H. Reed
Disciplines
Folklore | Oral History
Recommended Citation
Davies, Richard. 1996. "The Ounegan Mill Strike." NA2553, C1656. Northeast Archives of Folklore and Oral History, Raymond H. Fogler Special Collections Department, University of Maine.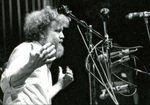 Included in
Rights Statement