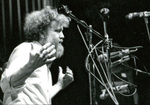 Song or Story
Location
Litchfield, ME and Unity, ME
Rights and Access Note
Rights assessment remains the responsibility of the researcher. No known restrictions on publication. For information about the process and fees for obtaining higher resolution scans or another file format, contact Special Collections.
Abstract
The Common Ground Country Fair (CGCF or "the Fair") is Maine's signature celebration of rural living, organic food and agriculture, and local enterprise.
Transcription
Well, my market garden, I'd segmented, it was a hundred feet wide with a road down through the middle so that I could go down through the middle with my pickup truck and spread manure. I found that I could spread it twenty-five feet on either side of the truck, so by going down through the middle I had half of it done and then by coming up each side I'd get the other half. Well, while I was doing that, you know, you're mind is – you're out there doing something that is pretty much of a mindless occupation. But my mind has never been really good at shutting down; it just keeps going all the time. So I found myself, as I said earlier as a football fan, I found myself giving commentary on my spreading. And I was going along there and I'd be spreading out there and I'd say, "Okay, now you're looking around in the truck there." What were the commentators' names, oh, I can't think right now. "Okay, Jim, what's he doing there now?" "Well, he's looking for a clump of manure see, he missed that spot over there in the corner. He's trying to get something that will go out there and catch the spot." And then, "Oh, wasn't that a good spray? Didn't he spread that out nice?" "That was, gee, that was a good one," you know? I just kept doing the commentary as I went along, and then I started imagining the commentary and it was an Olympics year, so then I started putting it into that kind of context as a competition and so I developed four different spreads…
…So based on that principle, I went ahead and talked to Common Ground and said I wanted to do this manure spreading contest, and I said I was going to get contestants in advance – you'd have to go through a qualifying somewhere else. Well, I only found one other person who wanted to have a qualifying round at their farm, of course I was one of them, but then I found there was an awful lot of work to lining up these plots and to do all that and to put the whole thing together. I put in a whole lot more work getting other people to spread manure for me than I ever did spreading it myself.
But at any rate, I promoted, I wrote to a company in Wisconsin that I saw an ad for that had these mini-manure spreaders, and they, and I said I'm doing this manure spreading contest, and I'd like as a top prize to be your manure spreader. And they agreed, and they sent the thing to me and I went to a couple of stores and got them to promote, to give me pitchforks, wheelbarrows, shovels, the whole works, all this stuff given for free. And the first one was at Litchfield, so this was the second Fair actually, and of course we couldn't spread truckloads of manure around the Litchfield Fair Grounds so I had to find a place outside. So I found a guy had this gravel pit that he was reclaiming, and it was flat, and you know like an amphitheater for what we were doing there. I had twenty contestants, so I had to round up twenty pick-up trucks and get the same amount of manure in all twenty trucks… Well, each driver would drive the truck out, get it loaded up, and drive out… And I had five judges; one of them was wearing a top hat and [coat] tails. I had a starter's gun and I had somebody demonstrating the manure spreader out next to them in the background. And I had to do that because this company out in Wisconsin sent these suits so I, I thought, "Oh my goodness, I better make this a pretty good promotion for their gift. I got these three guys in suits walking around."
At the start of the gun I got twenty people in the backs of the trucks poised and ready to go, so at the start of the gun they all go, you know, and s–t flies in every direction. It was gory; it was one of the high points of my life. I got Organic Gardening magazine and a photographer up there on the bank doing a picture of the whole thing, and the judges are walking around checking everybody's spread. It was just great. One guy parked in the middle and didn't move his truck, but he's throwing manure all over the cab, and oh boy he's going to get a lot taken off for – neatness counted in this thing, I mean the judges were looking at all this stuff. How was he going to get it under the truck? Well, he had it all figured out: he gets off the back of the truck and he throws it all underneath the truck. It was just great, and at the end when he's got the truck unloaded of manure, he hauls a broom out and sweeps the whole truck off. It was great. So that was that. That was the only time that one's been done, and I've been trying to get them interested in doing that for Spring Growth. We couldn't do it for the Fair 'cause we use too much space.
Keywords
Unity, The First Manure-Pitch, Mort Mather, Litchfield, Maine, Common Ground Country Fair, CGCF, Maine Organic Farmers and Gardeners Association, MOFGA, organic, agricultural fair, The Harry S. Truman Games, manure, pick-up truck, story
Disciplines
Folklore | Oral History
Recommended Citation
Mather, Mort. 2000. "The First Manure-Pitch." NA 2634, C1917. Northeast Archives of Folklore and Oral History, Raymond H. Fogler Special Collections Department, University of Maine.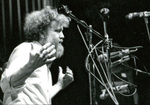 Included in
Rights Statement