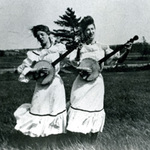 Song or Story
Rights and Access Note
Rights assessment remains the responsibility of the researcher. No known restrictions on publication. For information about the process and fees for obtaining higher resolution scans or another file format, contact Special Collections.
Abstract
Young Charlotte is an old ballad native to North America. It has been a popular ballad all over North America from Newfoundland to South Dakota, and widely studied. It was so popular, in fact, that it inspired a doll called Frozen Charlotte.
Transcription
1. Young Charlotte lived by the mountainside, In a lonely, dreary spot; No other dwelling for three miles round, Except her father's cot. And yet on many a winter's eve, Young swains would gather there, For her father kept a social abode, And she was very fair
2. Her father liked to see her dressed, Just like some city belle; She was the only child he had, He loved his daughter well. Her hair was black as raven's wings, Her skin was lily fair, And her teeth were like the pearls of white, None with her could compare
3. At a village just sixteen miles off, There's a merry ball tonight, Although the air is freezing cold, Her heart is warm and light. And there she watched with an anxious look, 'Til a well-known voice she heard, And driving up to the cottage door, Young Charles in his sleigh appeared.
4. The mother to her daughter said, "These blankets round you fold; For it is a dreadful night, you know, You'll catch your death of cold." "Oh, no! Oh, no!" the darling cried, She laughed like a gypsy queen, "For to ride in blankets muffled up, I never could be seen."
5. "My silken cloak, it's quite enough – You know it's lined throughout. Besides I have a silk mantle, To tie my face about." The gloves and bonnet being on, They jumped into the sleigh, And away they did ride o'er the mountainside And the hills so far away.
6. There is music in the sounds of bells, As over the hills they go; What a creaking wake the runners make, As they bite the frozen snow. And away they then go silently, 'Til five cold miles were passed, And Charles with these few frozen words, The silence broke at last.
7. "Such a night as this I never knew, My lines I scarce can hold." With a trembling voice young Charlotte cried, "I am exceeding cold." He cracked the whip, he urged his steed Much faster than before, Until at last five other cold miles, In silence they rode o'er.
8. "How very fast the freezing air Is gathering on my brow." With a trembling voice young Charlotte cried, "I'm growing warmer now." And away they did ride o'er the mountainside, And through the pale star light, Until the village inn they reached, And the ballroom hove in sight.
9. When they reached the inn, young Charles jumped out, And gave his hand to her, "Why sit you there like a monument, And have no power to stir?" He called her once, he called her twice, She answered not a word; He called all for her hand again, But still she never stirred.
10. He stripped the mantle off her brow, And the pale stars on her shone, And quickly into the lighted hall, Her helpless form was born. They tried all within their power, Her life for to restore, But Charlotte was a frozen corpse, And is never to speak more.
11. He threw himself down by her side, And the bitter tears did flow, He said, "My dear and intended bride, You never more shall know." He threw his arms around her neck, He kissed her marble brow, And his thoughts went back to the place where she said, "I am growing warmer now."
12. They bore her out into the sleigh, And Charles with her rode home, And when they reached the cottage door, Oh, how her parents mourned! They mourned the loss of their daughter dear, And Charles mourned o'er her doom, Until at last his heart did break, Now they both slumber in one tomb.
Keywords
Wells, Young Charlotte, Fair Charlotte, Ernest Lord, North America, Frozen Charlotte, William Lorenzo Carter, Vermont, Seba Smith, Maine, A Corpse Going to a Ball, frozen, sleigh, ballad
References
Linscott, Eloise Hubbard. Folk Songs of Old New England. New York: MacMillan Co., 1939, 305-09; Gray, Ronald Palmer. Songs and Ballads of the Maine Lumberjacks with Other Songs from Maine. Cambridge: Harvard University Press, 1924, 94-97; Peacock, Kenneth. Songs of the Newfoundland Outports. Volume 3. Ottawa: National Museum of Man, 1965, 735-37; Creighton, Helen. Songs and Ballads from Nova Scotia. New York: Dover Publications, 1966, 328-31; Creighton, Helen. Folksongs from Southern New Brunswick. Ottawa: National Museum of Man, 1971, 141-42; Laws. G. Malcolm. Native American Balladry. Philadelphia: The American Folklore Society, 1964, 221 (G17); and Barry, Phillips, "William Carter, the Bensontown Homer." Journal of American Folklore 25, 156-68.
Disciplines
Ethnomusicology | Folklore | Oral History
Recommended Citation
Lord, Ernest. 1966. "Young Charlotte." NA66.10, CD113.4. Northeast Archives of Folklore and Oral History, Raymond H. Fogler Special Collections Department, University of Maine.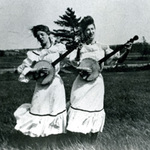 Rights Statement