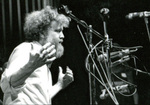 Song or Story
Files
Download P337: Portrait of Joseph Attean, Thoreau's guide, c1860 (314 KB)
Download P293: Two men poling canoes up rips, 1914 (759 KB)
Download P6025: William "Sleepy" Atkins, a pioneer of the guiding industry in Maine, in canoe with moose, 1904 (112 KB)
Download P6027: William "Sleepy" Atkins with pack and dog, 1904 (124 KB)
Rights and Access Note
Rights assessment remains the responsibility of the researcher. No known restrictions on publication. For information about the process and fees for obtaining higher resolution scans or another file format, contact Special Collections.
Collector
Helen K. Atchison
Motif
The buckwheat story fits X1122.1 (Lie: hunter shoots projectile great distance) and is similar to X1122.3 (Lie: ingenious person bends gun barrel to make spectacular shot); The story of canoeing through the rapids best fits W117 (Boastfulness) and/or somewhere in F660 (Remarkable skill).
Abstract
The story heard here actually consists of two short stories, both told by Tom Gardner, a famous Maine Guide from Allagash.
Transcription
Tom Gardner, as I said, was a guide and an excellent canoe-man. And, in those days, when you had a party and you were guiding them up the river, after you had the evening meal you also were supposed to have the capacity to furnish some entertainment for your party. Tom Gardner was a past master at telling stories. He'd tell the story of his father selling buckwheat on the island in the Spring when he couldn't get to the island. He'd have the ground all prepared from the Fall before, and in the Spring when it was time to sell the buckwheat he just went out on the bank with his double-barreled shotgun and his buckwheat, and he loaded both barrels and shot the buckwheat across on the island. Someone asked him how he got the buckwheat to spread, and Tom said, 'That was no problem, he just waved the barrel when he was pulling the trigger.'
Then, he was telling one evening, at [?] Depot, that was a stopping point when we had a party going up the river, he was telling the party about how fast he went up through Twin Brook Rapid one time using the end over end method. And he said, 'Well, I'll just tell ya, I went up through there fast enough that I pulled that pole up out of the water and there was a row of holes where that pole came up that drifted right back down through the rapids behind that canoe.' Fred Hafford was along, one of the guides; Fred laughed a little bit. Tom said, 'I don't suppose you believe that, do you, Fred?' Fred said, 'The Hell I don't, Tom, I came up the river just a little bit behind you using the same holes!'
P6025: William "Sleepy" Atkins, a pioneer of the guiding industry in Maine, in canoe with moose, 1904.
P6027: William "Sleepy" Atkins with pack and dog, 1904.
Keywords
Allagash, Maine, Jim Connors, Helen K. Atchison, Tom Gardner, tall tale, Maine Guide, Aroostook County, canoe, buckwheat, shotgun, St. John River, Twin Brook Rapids, Acadians
References
Hamlin, Helen. Pine, Potatoes, and People: The Story of Aroostook. New York: W. W. Norton, 1948, 124-27; & Lowery, Nathan S. "Tales of the Northern Maine Woods: The History and Traditions of the Maine Guide," in Northeast Folklore 28 (1989), 69-110.
Disciplines
Folklore | Oral History
Recommended Citation
Connors, Jim. 1972. "Tom Gardner's Stories." NA2891, CD491.2. Northeast Archives of Folklore and Oral History, Raymond H. Fogler Special Collections Department, University of Maine.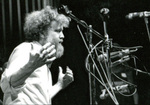 Included in
Rights Statement