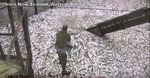 Title
What if There were No River Fisheries in Downeast Maine?
Series Title
Harvesters' Perspectives on Alewives, Bluebacks, and Eels in Downeast Maine
Creator
Maine Sea Grant, NOAA Fisheries
Geographic Focus
Downeast Maine
Topics
Narrative histories of alewife/blueback herring and American eel fisheries
Keywords
Downeast Maine, Maine fisheries, Alewives, River Herring, Elver
Summary
Downeast's Maine's rivers have supported commercial, recreational, and sustenance fisheries for hundreds of years. To understand the importance of these fisheries, we asked harvesters and other community members, "What would Downeast Maine be like if there were no river fisheries?"
Most of the community members shown in this video are alewife and elver (juvenile American eel) harvesters. Their responses largely reflect the economic importance of these fisheries in Downeast Maine. Alewives are a preferred type of bait for Maine's lobster fishery, the largest fishery in Maine in both landings and value.
This video was produced as part of an oral history project carried out by Maine Sea Grant and NOAA Fisheries in the spring of 2014 with financial support from NOAA's Preserve America Initiative.
Preferred Citation
Bushey, Randy; Southerland, Jake; Keene, Julie; Milliken, Billy; Welch, Rick; Young, Darrell; and Altvater, Brian, "What if There were No River Fisheries in Downeast Maine?" (2014). Maine Sea Grant Video Collection. 2.
https://digitalcommons.library.umaine.edu/seagrant_videos/2