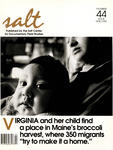 Publication Date
12-1-1993
Keywords
Local History, Folk Dancing, Country Dancing, Agriculture, Farming, Potato Farming, Migrant Labor, Migrant Farm Workers, Seasonal Farmworkers, Laborers, Homelessness, Homeless Shelters, Unsheltered People, Unhoused People, Health and Fitness, Social Services, Maine Guides
Disciplines
Human Ecology | Social and Cultural Anthropology | Sociology of Culture | Work, Economy and Organizations
Description
Published by the Salt Center for Documentary Field Studies. Viginia and her child find a place in Maine's broccoli harvest, where 350 migrants "try to make it a home."Content
3 Nineteen Pine Street Soon the Salt Center will expand to Seventeen Pine next door, doubling its size and expanding its educational programs.
4 Contradancing: Rowdies and Revivalists Maine has its "rowdies" that dance and play their music like the old time country dances of 50 years ago. And it has its "revivalists" that practice English contradances learned from Boston.
20 Broccoli Harvest Move over potatoes, here comes the broccoli challenge. The new crop of Aroostook County for gambling farmers like Lance Smith brings a new kind of worker, Filipino and Mexican-American migrants.
29 "Making a Home in Maine" A photographic essay of how migrants in their camps "take whatever's there for us. And we make the best of it and make it home."
46 Under One Roof: the YMCA Dormitory, health club, hangout, and home to the homeless, the Portland YMCA is a lot of things to a lot of people. It brings society under one roof, the rich, the not-so-rich and the poor.
57 Lonely Transitions Living at the YMCA, for a month or for 20 years, can be lonely. At least it's a place to hang your hat. A photographic essay.
65 When a Guide Was a Storyteller Born in 1897, Chub Foster was a guide in the North Woods when everyone there was a woodsman. Storytelling for his "sports" was the extra skill a Maine guide needed, that and a dollar for a license.
Publisher
Salt Center for Documentary Field Studies
Rights and Access Note
This Item is protected by copyright and/or related rights. You are free to use this Item in any way that is permitted by the copyright and related rights legislation that applies to your use. For other uses you need to obtain permission from the rights-holder(s).
Rights Statement
http://rightsstatements.org/vocab/InC/1.0/
Recommended Citation
Salt Institute for Documentary Studies, "SALT, Vol. 11, No. 4" (1993). Salt Magazine Archive. 42.
https://digitalcommons.library.umaine.edu/salt_magazine/42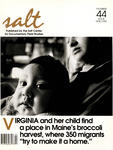 Rights Statement