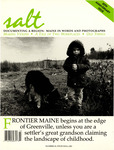 Publication Date
8-1-1993
Keywords
Local History, Rural Economics, Local Communities, Tourism, Moosehead Lake, Broadcasting, Graveyard Shift, Musical Instruments, Reuse Economy, Recycling, Antiques and Collectibles, Resale, Salvage, Textile Mills, Manufacturing, Retailers, Labor Unions, Urban Development
Disciplines
Human Ecology | Social and Cultural Anthropology | Sociology of Culture | Work, Economy and Organizations
Description
20th Anniversary Issue. Documenting a Region: Maine in Words and Photographs. Making Violins. A Tale of Two Workplaces. Old Things. Frontier Maine begins at the edge of Greenville, unless you are a settler's great grandson claiming the landscape of childhood.
Content
2 Nineteen Pine Street How this issue of Salt was made and who made it.
4 Greenville: the Shifting Frontier As long as Ed Walden's around, you can't take the frontier out of Greenville. You can't Ed out either — except on a slab. We look at Greenville through the eyes of some of its people.
18 Radio and Night People You work the night shift while other people sleep. You like it. Not so many hassles, not so many people. Just you and your DJ.
25 Violin Making in the Woods In the woods of Windham, Maine, Jonathan Cooper shapes violins "to have character," a skill he went to Italy to learn.
30 Old Things Recycling didn't get born yesterday in Maine. People just didn't call it that. Keeping things, fixing them, using their parts to make something else — that's been going on for generations.
42 A Tale of Two Workplaces Bates Fabrics and L.L. Bean Telemarketing are only a few hundred yards apart in Lewiston. They mark Lewiston's change from industrialized textile town to a service-based city.
59 Making the Looms Talk "Very few people can do this work and do it right. These people could almost make the looms talk. Fortunately, we still have a few of them around." Fred Lebel of Bates Mill.
63 Twenty Years Join us in celebrating Salt's 20th anniversary. Twenty years of teaching students to document the distinctive region that is Maine. And twenty years of publishing Salt magazine.
64 Fast Forward and Rewind Looking ahead at what's to come. Readers comment on what's behind.
Publisher
Salt Center for Documentary Field Studies
Rights and Access Note
This Item is protected by copyright and/or related rights. You are free to use this Item in any way that is permitted by the copyright and related rights legislation that applies to your use. For other uses you need to obtain permission from the rights-holder(s).
Rights Statement
http://rightsstatements.org/vocab/InC/1.0/
Recommended Citation
Salt Institute for Documentary Studies, "SALT, Vol. 11, No. 3" (1993). Salt Magazine Archive. 41.
https://digitalcommons.library.umaine.edu/salt_magazine/41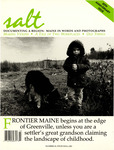 Rights Statement