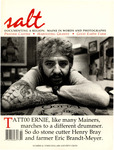 Publication Date
9-1-1992
Keywords
Local History, Barber School, Hair Dressing, Barbering, Hair Care Services, Body Modification, Body Alteration, Local Businesses, Quarrying, Stone Cutting, Quarries, Back-to-the-Land Movement, Rural Life, Organic Farming, Agriculture, Local Communities
Disciplines
Human Ecology | Social and Cultural Anthropology | Sociology of Culture | Work, Economy and Organizations
Description
Documenting a Region: Maine in Words and Photographs. Pristine Castine. Harvesting Granite. Good Earth Farm. Tattoo Ernie, like many Mainers, marches to a different drummer. So do stone cutter Henry Bray and farmer Eric Brandt-Meyer.
Content
3 Nineteen Pine Street How this issue of Salt was made and who made it.
4 Fast Forward and Rewind A new feature. We look ahead at what's to come and readers comment on what's behind.
5 Salt Sense: Editorial In Salt's 20 years of documenting Maine people, we have grown accustomed to remarkable lives — but unremarkable deaths. This changed with the life and violent death of Kathy Hegarty.
6 Barbershops Barbershops are social places wih a crowd of regulars. We take you inside two in Portland and South Paris for some fun.
15 Tattoo Parlor A photographic essay by Robyn Redman.
20 Granite-Challenge of the Elements In the heyday of the granite industry, thousands of Maine quarrymen and stone cutters worked in a hundred quarries. Now a few determined artisans still harvest and shape this basic element born 325 million years ago.
30 Aftermath: Hurricane Island A photographic essay by Maryanne Mott.
38 Good Earth Farm Back-to-landers named this farm and tried to make a go of it. Then they faced a hard choice: switch crops and grow to a market economy or lose the land.
50 Pristine Castine: Where Have the Mavens Gone? No village in New England is more picturesquely preserved than Castine. While the buildings still stand, the natives and the "mavens" are a dying breed. What happens when a place begins to lose its memory of itself?
Publisher
Salt Center for Documentary Field Studies
Rights and Access Note
This Item is protected by copyright and/or related rights. You are free to use this Item in any way that is permitted by the copyright and related rights legislation that applies to your use. For other uses you need to obtain permission from the rights-holder(s).
Rights Statement
http://rightsstatements.org/vocab/InC/1.0/
Recommended Citation
Salt Institute for Documentary Studies, "SALT, Vol. 11, No. 2" (1992). Salt Magazine Archive. 40.
https://digitalcommons.library.umaine.edu/salt_magazine/40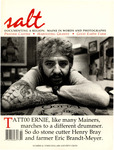 Rights Statement