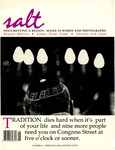 Publication Date
11-1-1991
Keywords
Local history, Mining, Mineral Hunting, Antiques and Collectibles, Judaism, Jewish Culture, Jewish Community, Jewish Traditions, Munjoy Hill, Agriculture, Dairy Farming, Animal Husbandry, Farming, Farms
Disciplines
Human Ecology | Social and Cultural Anthropology | Sociology of Culture | Work, Economy and Organizations
Description
Documenting a Region: Maine in Words and Photographs. Making Minyan. Family Dairy Farm. Digging for Gems. Tradition dies hard when it's part of your life and nine more people need you on Congress Street at five o'clock or sooner.
Content
3 Nineteen Pine Street Contributors and notes about this issue.
5 The Photographer's Voice Five Maine photographers talk about their work in an open forum with Salt's photographic students. Here are the voices that inform the images of Tom Donaldson, Arthur Fink, Tony King, Jack McConnell, and Marta Morse.
8 Digging For Gems Oxford County's mineral-rich veins keep rockhounds like Tony and Dennis Gross pounding on unforgiving rock ledges and battling with 3,000 pound boulders. The lure of digging for treasure is as old as mankind.
22 Making Minyan Ten men are needed for group prayer at the Etz Chaim Synagogue in Portland. So each day they come and count — Ben and Maurice and Buddy and Dean and David and Eli and Herbie — waiting to make ten as the congregation ages and dwindles away.
34 Congress Street Shabbat Passersby would not notice this place. People in this part of the neighborhood are on their way somewhere else. Inside, Shabbat service renews the traditions of 5,751 years.
42 Family Dairy Farm It's a pretty humbling life, not glamorous, and the pay-off sometimes doesn't make ends meet, but the Russell family still fights to keep their farm going.
49 Doing Barn Chores Forty milking cows help warm the barn for the working family, who move through the frosty air with the comfort that comes from being in a place twice a day) every day.
Publisher
Salt Center for Documentary Field Studies
Rights and Access Note
This Item is protected by copyright and/or related rights. You are free to use this Item in any way that is permitted by the copyright and related rights legislation that applies to your use. For other uses you need to obtain permission from the rights-holder(s).
Rights Statement
http://rightsstatements.org/vocab/InC/1.0/
Recommended Citation
Salt Institute for Documentary Studies, "SALT, Vol. 11, No. 1" (1991). Salt Magazine Archive. 39.
https://digitalcommons.library.umaine.edu/salt_magazine/39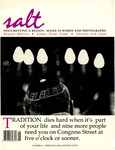 Rights Statement