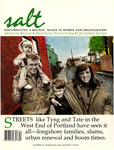 Publication Date
12-1-1990
Keywords
Local history, Gentrification, Redevelopment, Modernization, Housing, Artist Communities, Economic Privilege, Social Privilege, Entitlement, Farming, Agriculture, Potato Farming
Disciplines
Human Ecology | Social and Cultural Anthropology | Sociology of Culture | Work, Economy and Organizations
Description
Documenting a Region: Maine in Words and Photographs. Artists in Belfast. Aroostook Potato Farm. City Street Scenes. Streets like Tyng and Tate in the West End of Portland have seen it all — longshore families, slums, urban renewal, and boom times.
Content
3 Nineteen Pine Street Contributors and notes about this issue.
5 Maine Journal The passing of Emmy McLean, Harvey Bixby, and other tales of the region, with a nod to Ronald Blythe.
7 A Sense of Place: Having It, Losing It What happens to the people of Maine communities undergoing change? Like the gentrification of old Belfast. Or the breakup of close working class neighborhoods in Portland. Or the failing potato farms of Aroostook County.
8 First Come the Artists When artists come to town — as they are doing in Belfast — they may act as "point men" for change. Next come boutiques, galleries, and gentrification. Many in Belfast say, "Not here!"
26 Two City Streets House by house, the two blocks of Tyng and Tate in Portland have a story to tell. The story of 70 years of change, told through the voices of the neighborhood people.
33 Street Scene Hang out on Tyng and Tate Streets in Portland, as photographer Tonee Harbert did, and these are street scenes you'll see.
50 Death of an American Potato Farm Mike Brown of Aroostook County was the best of farmers. Never sold a potato that he wouldn't put on his own table. But one day, with his seed bought and his loan approved, he quit.
Publisher
Salt Center for Documentary Field Studies
Rights and Access Note
This Item is protected by copyright and/or related rights. You are free to use this Item in any way that is permitted by the copyright and related rights legislation that applies to your use. For other uses you need to obtain permission from the rights-holder(s).
Rights Statement
http://rightsstatements.org/vocab/InC/1.0/
Recommended Citation
Salt Institute for Documentary Studies, "SALT, Vol. 10, No. 4" (1990). Salt Magazine Archive. 38.
https://digitalcommons.library.umaine.edu/salt_magazine/38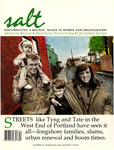 Rights Statement