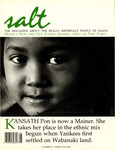 Publication Date
11-1-1989
Keywords
Local history, Restaurants and Diners, Ethnic Groups, Immigrants, Immigrant Communities, Refugees, Refugee Resettlement, Hotels, Hospitality
Disciplines
Human Ecology | Social and Cultural Anthropology | Sociology of Culture | Work, Economy and Organizations
Description
The magazine about the really important people of Maine. Maine's New and Old Ethnic Groups — First of Two Parts. Kansath Pon is now a Mainer. She takes her place in the ethnic mix begun when Yankees first settled on Wabanaki land.
Content
3 Nineteen Pine Street Contributors and notes about this issue.
5 Maine Journal A new feature this issue. Who commutes? Most Mainers. Plus a barbershop view of the economy. And BIW expansion.
7 Yankees and Other Ethnics Ethnic gounps in Maine-including Yankees-are not part of a homogenious "melting pot," argues sociologist Peter Rose. They are distinct contributors to an identifiable American stew.
8 Finnish and Yankee Doodles Where do you find the Finnish in Maine but in the sauna? Salt goes to a South Paris sauna, then to the homes of Finns, who are as stubborn as their neighbors, the Yankee Doodles.
26 The First Days: Starting New in Maine Two Cambodian families land at Portland airport for their first days in Maine. The contrasts between their lives as refugees and their new lives in a land of plenty are extraordinary.
33 A Family Initiation "It is like a dream. Is it real?" First experiences of Cambodian refugees as interpreted by Tonee Harbert's camera.
47 Bridge Generation Coming from Ireland, Afghanistan, Rumania, Austria, Italy, they are the bridge generation. Their lives connect to two coutries and home may always be two places.
60 Guide to Maine Eating If you want to eat where the locals eat, this is where you'll find them — where prices are right and the talk is familiar.
62 Guide to Maine Inns Innkeeping is an art and good inkeepers are a special breed. Here is Salt's guide to Maine's historic inns.
Publisher
Salt Center for Documentary Field Studies
Rights and Access Note
This Item is protected by copyright and/or related rights. You are free to use this Item in any way that is permitted by the copyright and related rights legislation that applies to your use. For other uses you need to obtain permission from the rights-holder(s).
Rights Statement
http://rightsstatements.org/vocab/InC/1.0/
Recommended Citation
Salt Institute for Documentary Studies, "SALT, Vol. 10, No. 1" (1989). Salt Magazine Archive. 35.
https://digitalcommons.library.umaine.edu/salt_magazine/35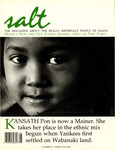 Rights Statement