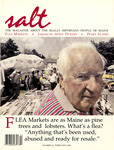 Publication Date
8-1-1989
Keywords
Local history, Restaurants and Diners, Reuse Economy, Antiques and Collectibles, Orchards, Agriculture, Agricultural Workers, Migrant Workers, Island Communities, Hotels, Hospitality
Disciplines
Human Ecology | Social and Cultural Anthropology | Sociology of Culture | Work, Economy and Organizations
Description
The magazine about the really important people of Maine. Flea Markets. Jamaican Apple Pickers. Peaks Island. Flea Markets are as Maine as pine trees and lobsters. What's a flea? "Anything that's been used, abused, and ready for resale."
Content
3 Eating in Maine If you want to eat where the locals eat) this is where you'll find them-where prices are right and the talk is familiar.
7 Letters to the Editor
9 View from Pier Road The end of an era for Salt and the beginning of a new one, as we move north to Portland.
10 Flea Market What is more Maine than a flea market, where someone's trash is another person's treasure. Montsweag is one of Maine's biggest.
24 To Maine for Apples Jamaican apple pickers in Maine live a life between two worlds. Salt follows 13 pickers at Tom Gyger's orchard near Bridgton through the harvest and through their daily lives, including a Jamaican feast of goat.
33 "Just Comin' and Goin'" A photographic essay by Tonee Harbert focuses on Jamaican harvesters who spend "more time in American and Jamaica, just goin' and comin'.
48 Peaks Island In the wake of suburban Portland) Peaks has experienced repeated waves of change. It has a hodgepodge of people with little in common except the ferry commute and their liking for Peaks.
63 Guide to Maine Inns Innkeeping is an art and good inkeepers are a special breed. Here is Salt's guide to Maine's historic inns.
Publisher
Salt Center for Documentary Field Studies
Rights and Access Note
This Item is protected by copyright and/or related rights. You are free to use this Item in any way that is permitted by the copyright and related rights legislation that applies to your use. For other uses you need to obtain permission from the rights-holder(s).
Rights Statement
http://rightsstatements.org/vocab/InC/1.0/
Recommended Citation
Salt Institute for Documentary Studies, "SALT, Vol. 9, No. 4" (1989). Salt Magazine Archive. 34.
https://digitalcommons.library.umaine.edu/salt_magazine/34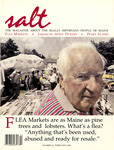 Rights Statement