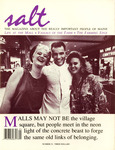 Publication Date
9-1-1988
Keywords
Local history, Dairy Farms, Agriculture, Dairy Industry, Farm Workers, Shopping Malls, Consumerism, Shopping, Decoster Egg Farm, Landscapes, Land Management, Poultry Industry, Restaurants and Diners
Disciplines
Human Ecology | Social and Cultural Anthropology | Sociology of Culture | Work, Economy and Organizations
Description
The magazine about the really important people of Maine. Life at the Mall. Vassal of the Farm. The Farming Edge. Malls may not be the village square, but people meet in the neon light of the concrete beast to forge the same old links of belonging.
Content
5 View from Pier Road
8 Vassals of the Farm Hired hands and owners of the Rancourt dairy farm in Vassalboro are bound to the farm in relentless work days. For some it beats the mill. For others it is peonage, long hours, poor pay and little to call your own.
22 Community and the Concrete Beast A childhood friend challenges sociologist and Maine native George Lewis. Why do people go to malls?
24 The Mall: By Salt Mass Observation Malls are the last word in consumerism, great airless, sunless temples for the exchange of money and goods. As far from Maine values of independence and "make do" as you can get. Yet Salt interviewers found a distinct mall culture of young and old who hang out there to get a sense of belonging: from mall "rats and bunnies" to "mall milers."
29 Mall People A photographic center section by Jim Daniels.
46 The Farming Edge The dairy farmers of Turner are known for their competitiveness. That's a primary reason that Turner is so successful in the business when other towns aren't. Salt looks closely at this.
61 Eating in Maine Where can you eat in Maine without feeling overwhelmed by outsiders or worrying about the size of your wallet? Here's where.
City
Kennebunkport, Maine
Rights and Access Note
This Item is protected by copyright and/or related rights. You are free to use this Item in any way that is permitted by the copyright and related rights legislation that applies to your use. For other uses you need to obtain permission from the rights-holder(s).
Rights Statement
http://rightsstatements.org/vocab/InC/1.0/
Recommended Citation
Salt Institute for Documentary Studies, "SALT, Vol. 9, No. 1" (1988). Salt Magazine Archive. 31.
https://digitalcommons.library.umaine.edu/salt_magazine/31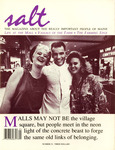 Rights Statement