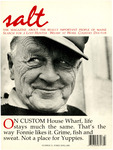 Publication Date
11-1-1987
Keywords
Local history, Restaurants and Diners, Local Business, Neighborhoods, Tradesmen, Hunting, Custom House Wharf, Ferries, Fishing, Fishermen, Fishmongers, Lobstering, Visual Impairment, Women in Healthcare, Doctors, Rural Medicine
Disciplines
Human Ecology | Social and Cultural Anthropology | Sociology of Culture | Work, Economy and Organizations
Description
The magazine about the really important people of Maine. On Custom House Wharf, life stays much the same. That's the way Fonnie like it. Grime, fish, and sweat. Not a place for Yuppies.
Content
2 Eating in Maine
3 Spend a Semester with the Really Important People of Maine
5 View From Pier Road
7 Munjoy Hill's Inside Scoop Renee's Variety Store in Portland is the place to find out what's going on around Mun joy Hill.
9 Jack of All Trades Al Buzzell's grandfather told him, "Don't learn one trade. Learn a dozen." He took the advice.
12 Lost Hunter A trip to the wilderness at Chesuncook Lake becomes high adventure as Salt joins Bert McBurnie in his search for a lost hunter.
24 Wharf at Work One wharf on Portland's embattled waterfront still does business as it has for 35 years. Custom House Wharf reeks of fish, diesel, mudflats, sweat and frying burgers. Its people have their own unwritten rules and their own ways of doing things, as well as strong views about· the change going on around them.
29 A Wharf and Its People A special photographic center section about Custom House Wharf.
48 Out of Sight of the Sea Ken Doane of Kennebunk might well be a lobsterman today if he hadn't lost his sight as a young man. Now he works on the edge of the sea repairing small engines.
56 When Doctoring Is Woman's Work The young sons of Dr. Marion Moulton of West Newfield watched her practice medicine in rural Maine as they grew up They decided doctoring is woman's work.
City
Kennebunkport, Maine
Rights and Access Note
This Item is protected by copyright and/or related rights. You are free to use this Item in any way that is permitted by the copyright and related rights legislation that applies to your use. For other uses you need to obtain permission from the rights-holder(s).
Rights Statement
http://rightsstatements.org/vocab/InC/1.0/
Recommended Citation
Salt Institute for Documentary Studies, "SALT, Vol. 8, No. 3" (1987). Salt Magazine Archive. 29.
https://digitalcommons.library.umaine.edu/salt_magazine/29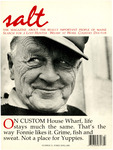 Rights Statement