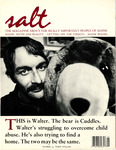 Publication Date
6-1-1987
Keywords
Local Businesses, Restaurants and Diners, Youth Culture, Lumbering, Forestry, Homelessness, Homeless Shelters, Unsheltered People, Unhoused People, Social Services, Child Abuse, Adverse Early Childhood Experiences, Childhood Trauma, Poverty, Package Handling, Common Carriers, Contract Carriers
Disciplines
Human Ecology | Social and Cultural Anthropology | Sociology of Culture | Work, Economy and Organizations
Description
The magazine about the really important people of Maine. This is Walter. The bear is Cuddles. Walter's struggling to overcome child abuse. He's also trying to find a home. The two may be the same.
Content
3 View From Pier Road
2 Eating In Maine A new feature, Salt's guide to the really important places to eat in Maine.
6 Maine: Myth and Reality A special issue on what is the "real" Maine. Salt staff and students worked to find out. What they found is presented in three sections.
7 Being Young in Maine What is it like to be young in Maine today? Three short articles suggest answers.
8 Hitchhiker
10 Joe of the North Woods
12 Saturday Night at the Condo
13 King Spruce Maine's Great North Woods are its largest myth and its largest reality. But that's changing. What of the myth will survive? What of reality? A lengthy article explores the North Woods of today and tomorrow.
14 Fall of the Great North Woods
21 In Pursuit of a Fantasy Is life in Maine getting better? Portland has been touted as "The city that's too good to be true." But is that really the case? A Salt student spent months documenting another side of Portland, that of people struggling to get off the streets.
22 Getting Off the Streets
29 Walter A special photographic center section on Walter who battles child abuse and finding a home.
46 To Sacopee Valley Via U.P.S. Follow Lee Hutchins, a U.P.S. delivery man, on his route in the Sacopee Valley. From recluse to the granola crowd, he knows them all.
62 Deacon's Bench Firefighting to rival Mark Twain.
64 Spend a Semester with the Really Important People of Maine
City
Kennebunkport, Maine
Rights and Access Note
This Item is protected by copyright and/or related rights. You are free to use this Item in any way that is permitted by the copyright and related rights legislation that applies to your use. For other uses you need to obtain permission from the rights-holder(s).
Rights Statement
http://rightsstatements.org/vocab/InC/1.0/
Recommended Citation
Salt Institute for Documentary Studies, "SALT, Vol. 8, No. 1" (1987). Salt Magazine Archive. 27.
https://digitalcommons.library.umaine.edu/salt_magazine/27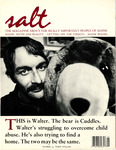 Rights Statement