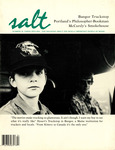 Publication Date
10-1-1986
Keywords
Fishermen, Storytelling, Veterans, Local Businesses, Restaurants and Diners, Truckers, Truck Drivers, Smoked Herring, Kippers, Book Sellers, Tributes
Disciplines
Human Ecology | Social and Cultural Anthropology | Sociology of Culture | Work, Economy and Organizations
Description
Bangor Truckstop. Portland's Philosopher-Bookman. McCurdy's Smoke House. "The movies make trucking so glamorous. It ain't though. I want my boy to see what it's really like." Dysart's Truckstop in Bangor, a Maine institution for truckers and locals. "From Kittery to Canada it's the only one."
Content
4 Crazy Avery Goes to New York A very Kelley tells about the time he hauled his traps on Beal's Island, Maine, and "struck a dust for New York."
12 Bangor Truckstop Ken Kobre, photojournalist, turns his lens on Dysart's Truckstop south of Bangor, a Maine tradition for 18 years.
19 Around the Clock at Dysart's Truckers at Dysart's talk about their experiences on the road over coffee and platters of food at Dysart's Truckstop, which never closes its doors.
24 McCurdy's Smokehouse, Last of a Breed McCurdy's Smokehouse in Lubec, Maine, is the last commercial smokehouse in the country, producing smoked herring by hand labor. Salt documents the smokehouse at work.
29 Smoking Herring Special photographic center section on the smoking of herring.
50 Francis O'Brien — Portland's Philosopher-Bookman Books, life and history are interconnected like a honeycomb, says Francis O'Brien, Portland's erudite, self educated philosopher and dean of antiquarian bookmen.
61 Remembering Tad A tribute to "Tad" (Sterling) Dow by Salt columnist Tom Bradbury, who served with him on Salt's Board of Trustees and the Kennebunkport Conservation Trust.
64 Salt's Regional Studies Programs Educational programs and courses offered at the Salt Center for Field Studies.
City
Kennebunkport, Maine
Rights and Access Note
This Item is protected by copyright and/or related rights. You are free to use this Item in any way that is permitted by the copyright and related rights legislation that applies to your use. For other uses you need to obtain permission from the rights-holder(s).
Rights Statement
http://rightsstatements.org/vocab/InC/1.0/
Recommended Citation
Salt Institute for Documentary Studies, "Salt, Vol. 7, No. 4" (1986). Salt Magazine Archive. 26.
https://digitalcommons.library.umaine.edu/salt_magazine/26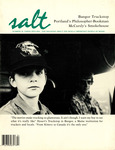 Rights Statement