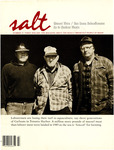 Publication Date
6-1-1989
Keywords
Local History, Storytelling, Veterans, Fishermen, Acquaculture, Lobstering, Mussel Farms, Nuclear Waste, Hazardous Waste Management
Disciplines
Human Ecology | Social and Cultural Anthropology | Sociology of Culture | Work, Economy and Organizations
Description
Mussel Wars. One Room Schoolhouses. No to Nuclear Waste. Lobstermen are losing their turf to aquaculture, say three generations of Carlsons in Tenants Harbor. A million more pounds of mussel meat than lobster meat were landed in 1985 as the sea is "fenced" for farming.
Content
3 The View from Pier Road A new feature starting this issue in Salt.
6 Deacon's Bench Tom Bradbury's column reflects the native Mainer's attitude about party going.
7 "Crazy Avery" Avery Kelley, Beal's Island storyteller, is a direct descendant of the giant Barney Beal. His yarns are as funny as Barney was strong.
10 The Fencing of the Sea Sea farmers are staking off sections of coastal bottom and fishermen are outraged. The battle for turf is much like the fencing of the range.
12 The Controversy Lobstermen are threatened by mussel growers who lease their traditional waters.
23 The Practitioner Traveling with a mussel harvester, Jack Hamblen, out of Stonington.
28 NO! Maine's response to selection as a possible nuclear dump site. A photographic study by Lynn Kippax, Jr.
37 Editorial: Galling to Mainers
38 One Room School of Today Do one room schools serve a need in today's world? Salt goes to the Cliff Island school in Casco Bay to find the answer.
50 Ruth Pinkham's One Room Schools What went on in one room schools when Ruth Pinkham taught in them 50 years ago and was a pupil in them 70 years ago.
56 The Farmer-Philosopher Ed Myers grows mussels on the Damariscotta River, coexisting peacefully-and philosophically-with lobstermen.
62 Salt's Regional Studies Programs A description of educational programs and courses offered at the Salt Center for Field Studies.
City
Kennebunkport, Maine
Rights and Access Note
This Item is protected by copyright and/or related rights. You are free to use this Item in any way that is permitted by the copyright and related rights legislation that applies to your use. For other uses you need to obtain permission from the rights-holder(s).
Rights Statement
http://rightsstatements.org/vocab/InC/1.0/
Recommended Citation
Salt Institute for Documentary Studies, "Salt, Vol. 7, No. 3" (1989). Salt Magazine Archive. 25.
https://digitalcommons.library.umaine.edu/salt_magazine/25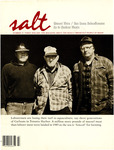 Rights Statement