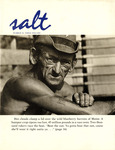 Publication Date
11-1-1985
Keywords
Local History, Agriculture, Wild Blueberries, Blueberry Farming, Blueberry Harvesting, Haying, Wetlands, Migrant Farm Laborers, Franco-American Heritage, Musicians, Native American Culture
Disciplines
Human Ecology | Social and Cultural Anthropology | Sociology of Culture | Work, Economy and Organizations
Description
Hot clouds clamp a lid over the wild blueberry barrens of Maine. A bumper crop ripens too fast, 45 million pounds in a vast oven. Two tousand rakers race the heat. "Beat the sun. Ya gotta beat that sun, cause she'll wear it right outta ya..."
Content
Hot clouds clamp a lid over the wild blueberry barrens of Maine. A bumper crop ripens too fast, 45 million pounds in a vast oven. Two tousand rakers race the heat. "Beat the sun. Ya gotta beat that sun, cause she'll wear it right outta ya..."
2 Short Takes From Alberta Redmond's 100th birthday to letters to the editor in this issue's "short takes."
3 Change on the Barrens Tradition and change vie on the wild blueberry barrens of Maine. The end of the old hand harvest is near.
4 Quilting-Patchwork Art Quilters of Maine are reviving an old art form. Young and old quilters meet to work together.
12 Salt Marsh Dikes Dikes in Maine like in Holland? Yes, says Professor David C. Smith. They were built to farm the salt marshes.
16 Wild Blueberry Harvest Voices from the blueberry barrens speak in this major article about the 1985 bumper crop. Rakers, field bosses, truckers, migrant workers, locals, Indians, managers and owners tell what the harvest means to them and what they see for the future.
29 Rakers A photographic essay about hand rakers on the wild blueberry barrens by Lynn Kippax, Jr.
50 Toots Makes Music Toots Bouthot makes music for the French Canadian community of Biddeford.
62 Indian Summer Columnist Thomas Bradbury spins his own theories about why Indian summer is called Indian summer.
City
Kennebunkport, Maine
Rights and Access Note
This Item is protected by copyright and/or related rights. You are free to use this Item in any way that is permitted by the copyright and related rights legislation that applies to your use. For other uses you need to obtain permission from the rights-holder(s).
Rights Statement
http://rightsstatements.org/vocab/InC/1.0/
Recommended Citation
Salt Institute for Documentary Studies, "Salt, Vol. 7, No. 2" (1985). Salt Magazine Archive. 24.
https://digitalcommons.library.umaine.edu/salt_magazine/24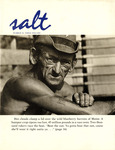 Rights Statement