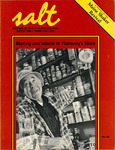 Publication Date
Winter 11-1-1984
Keywords
Local History, Maine History, Chicken Industry, Car Insurance, Oral History, Grocery Stores, Shakers, Shaker Society, African Americans, Black History, Textile Arts, Weaving
Disciplines
Human Ecology | Social and Cultural Anthropology | Sociology of Culture | Work, Economy and Organizations
Description
Blarney and salami at Fitzhenry's Store.
Content
2 Junior Miller A salute to Junior Miller, who believed in hard work, persistence and optimism. This issue is dedicated to him.
4 The Deacon's Bench Thomas Bradbury writes about Chester, the chicken plucker, in his column.
7 Letters to Salt
8 Center for Field Studies Salt's Center hosts a series of visiting professors as part of its Semester-in-Maine program for college students.
10 Fitzhenry's Store Fitzhenry's is so little "there ain't too much room to wrassle," but it has everything from pickled eggs to shoe horns-and some back country conversation to boot.
18 Shaker Revival in Maine A decade ago, Maine's Shaker community had dwindled to four elderly Sisters. As Maine Shakers adapt to a changing world, four converts have joined. This is a sensitive look at the Shakers by a Salt student who was their weekly guest for three months.
38 "I'm Singulah!" That's how John Gaskill describes himself at 92. He tells the story of a black boy with a mind of his own growing up in Portland, his own singular story.
52 Black Child of Maine Geneva Sherrer is a native of Augusta, Maine, who has begun to document the untold story of Maine's black people.
62 Rhythm of the Loom Bessie Swain of Exeter, New Hampshire, is the grandmother of weaving in northern New England. She has taught her art to generations of students.
City
Kennebunkport, Maine
Rights and Access Note
This Item is protected by copyright and/or related rights. You are free to use this Item in any way that is permitted by the copyright and related rights legislation that applies to your use. For other uses you need to obtain permission from the rights-holder(s).
Rights Statement
http://rightsstatements.org/vocab/InC/1.0/
Recommended Citation
Salt Institute for Documentary Studies, "Salt, Vol. 6, No. 4" (1984). Salt Magazine Archive. 22.
https://digitalcommons.library.umaine.edu/salt_magazine/22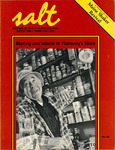 Rights Statement