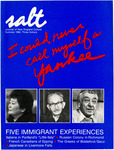 Publication Date
Summer 7-1-1984
Keywords
Local history, Immigrants, Greek Heritage, Japanese Heritage, Milltowns, Franco-American Heritage, Italian Heritage, Russian Heritage
Disciplines
Human Ecology | Social and Cultural Anthropology | Sociology of Culture | Work, Economy and Organizations
Description
I could never call myself a Yankee. Five Immigrant Experiences. Italians in Portland's "Little Italy." French Canadians of Epping. Japanese in Livermore Falls. Russian Colony in Richmond. The Greeks of Biddeford/Saco.
Contents
2 Letters to Salt
4 Pinch a Penny, Spend a Dime A new column, "The Deacon's Bench," by Thomas Bradbury starts in this issue.
6 Guest Article: A Boy's Dream Come True John Chaisson of Lewiston writes SALT's first guest article about his childhood days in the "big woods."
9 Salt Center for Field Studies This issue of SALT is the first to be published from SALT's new Center for Field Studies, with student work produced as part of SALT's Semester-in-Maine program.
10 "I Could Never Call Myself a Yankee" Pericles Economos struck the theme for this issue when the Greek immigrant used these words about his 69 years in Biddeford, Maine.
12 From Japan's Snow Country to Maine Suzuko Hiraoka Laplante is the only Oriental immigrant in Livermore Falls, Maine. She tells of her 30 years in a Maine milltown.
26 Antoinette's Patience: A Canadian Family In Epping Antoinette Cote Bernier of Epping, New Hampshire, says it takes patience to make bread and "when you have twelve children, you got to have patience, too."
34 Little Italy of Portland An Italy came to flourish in Yankee Portland on the lower western slopes of Munjoy Hill. "Little Italy was in our back yards."
38 Italian "Soldier of Fortune" Ottaviano Massimo Segismonto Antonio Breggia describes life on Munjoy Hill in Portland's "Little Italy."
46 Richmond's Russian Colony To an inland river town in Maine came a colony of Slavic immigrants in the 1950s.
49 One Russian Who Kept Her Heart Ilsa Rudin Pasechnik, from the Russian colony in Richmond, Maine, tells of the music she loves and her losses in her mother country. "They could take everything, but they could not take my heart or my brain!"
58 A Greek Father Shapes His Son The story of how Sam Anagnostis of Saco, Maine, built a bridge for his son, John, to walk from a fruit store to a classroom.
City
Kennebunkport, Maine
Rights and Access Note
This Item is protected by copyright and/or related rights. You are free to use this Item in any way that is permitted by the copyright and related rights legislation that applies to your use. For other uses you need to obtain permission from the rights-holder(s).
Rights Statement
http://rightsstatements.org/vocab/InC/1.0/
Recommended Citation
Salt Institute for Documentary Studies, "Salt, Vol. 6, No. 3" (1984). Salt Magazine Archive. 21.
https://digitalcommons.library.umaine.edu/salt_magazine/21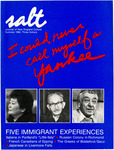 Rights Statement