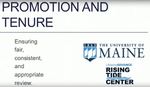 Title
Promotion and Tenure: Ensuring Fair, Consistent and Appropriate Review
Series Title
Promotion and Tenure at the University of Maine
Identifier
H264 MOV 960x540 16x9
Files
Download Presentation to supplement Promotion and Tenure training video (454 KB)
Creator
ADVANCE Rising Tide Center
Producer
University of Maine Marketing and Communications
Genre
Faculty Development
Topics
Evaluating Faculty Colleagues; fair evaluation; reducing bias in evaluative processes
Keywords
peer evaluation, faculty advancement, fair evaluative processes
Summary
Participating on a peer committee can be daunting. Interpretations of departmental criteria often vary, even among peer committee members.
A guide to BEST PRACTICES in peer evaluation could resolve a lot of questions, and would go a long way toward ensuring that evaluative processes are executed consistently across our campus.
UMaine's Executive Vice President for Academic Affairs & Provost, Dr. Jeff Hecker, has developed a training module that will help departments streamline the peer review process to facilitate fair outcomes.
Preferred Citation
Hecker, Jeffrey, "Promotion and Tenure: Ensuring Fair, Consistent and Appropriate Review" (2015). Rising Tide Video Collection. 1.
https://digitalcommons.library.umaine.edu/risingtide_videos/1