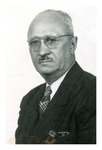 Photograph of Frederico Matheas & Biographical Information
Scanned items from Matheas's alumni file created by the University of Maine Alumni Association and how preserved by Raymond H. Fogler Special Collection's Department. To date Matheas is the earliest University of Maine black graduate that University Archivist Matthew Revitt has been able to identify.
Description
Photograph of Federico Walter Matheas, one of the first Black graduates of the University of Maine. Matheas was a member of the Class of 1907. There is a photograph of Matheas as well as biographical information curated by the University of Maine Alumni Association.
More information on Matheas can be found in "Remembering Bangor: The Queen City Before the Great Fire" by Wayne E. Reilly and "Black Bangor: African Americans in a Maine Community, 1880-1950 (Revisiting New England)" by Maureen Lee.
This paper has been withdrawn.
Rights Statement