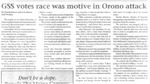 Maine Campus_GSS votes race was motive in Orono attack
Extract from full edition available in Digital Commons.
Description
Article from the University of Maine student newspaper The Maine Campus regarding the General Student Senate voting that an attack on two Black students was motivated by race.
This paper has been withdrawn.
Rights Statement