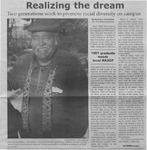 Maine Campus_Realizing the dream
Extract from full edition available in Digital Commons.
Description
Articles from the University of Maine student newspaper The Maine Campus on work to promote racial diversity on the campus, by James Varner a University of Maine graduate and Paul Groce, president of the Black Student Association.
Also, included as supplementary content is a January 29, 2004 letter to the editor from Groce regarding the article.
This paper has been withdrawn.
Rights Statement