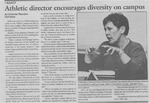 Maine Campus_Athletic director encourages diversity on campus
Extract from full edition available in Digital Commons.
Description
Article from the University of Maine student newspaper The Maine Campus regarding the University of Maine Athletics Director Suzanne Tyler speaking at a NAACP event on encouraging diversity on the University campus.
This paper has been withdrawn.
Rights Statement