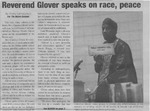 Maine Campus_Reverend Glover speaks on race, peace
Extract from full edition available in Digital Commons.
Description
Article from the University of Maine student newspaper The Maine Campus regarding a speech by Reverend Clarence Glover on racism and peace as part of African American Heritage Month celebrations.
This paper has been withdrawn.
Rights Statement