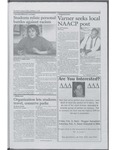 Maine Campus_Students relate personal battles against racism
Extract from full edition available in Digital Commons.
Description
Article from the University of Maine student newspaper The Maine Campus regarding a talk on racism at the Socialist/Marxist lunch held on campus that featured Native American student Bonnie Newson, Professor Doug Allen, Native American student; Angson Dhlakama, an African student from Zimbabwe; and Ricardo Tubbs, the president of the African-American Student Association.
This paper has been withdrawn.
Rights Statement