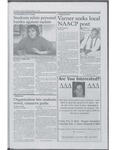 Maine Campus_Varner seeks local NAACP post
Extract from full edition available in Digital Commons.
Description
Article from the University of Maine student newspaper The Maine Campus regarding James Varner seeking a post as president of the University of Maine and Greater Bangor Area Chapter of the NAACP.
This paper has been withdrawn.
Rights Statement