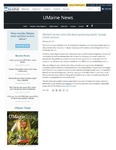 Mitchell Center hosts talk about promoting equity through citizen science
Description
The Senator George J. Mitchell Center for Sustainability Solutions at the University of Maine will host a talk about how citizen science can help promote equity in the science and technology fields 3-4 p.m. on Monday, March 1.
In this talk, Amara lfeji will speak to her lived experiences as a BIPOC (Black, Indigenous and people of color) individual, and the marginalization she has faced in nurturing a connection to place and environment. She will talk about how her passion for water justice led her to not only foster this connection herself, but to also serve as a conduit for other BIPOC and female-identifying students.
This paper has been withdrawn.
Rights Statement