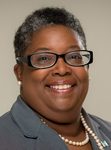 Dr. Kimberly Whitehead appearance on social and medical justice podcast
In July 2020, Northern Light Health launched its first podcast, Tim Talk, hosted by president and CEO Tim Dentry with the goal to break down barriers, open hearts and minds to diversity, and focus on issues of social and medical justice. Tim Talk is part of Northern Light Health's multi-pronged plan to eliminate racism and build a strong future for social and medical justice, which starts with a culture of caring for one another. Through this public platform, Northern Light Health hopes to invite a larger community audience to this important discussion. (From the Northern Light Health website, 09/10/2020)
Description
In Episode 18 of Tim Talks, Tim Dentry chats with Kimberly Whitehead, PhD, vice president and chief of staff at the University of Maine, the state's flagship public research university.
At the University, Dr. Whitehead is engaged in a variety of strategic initiatives, including co-chairing the President's Council on Diversity, Equity, and Inclusion, leading UMaine's Powered by Publics Initiative, and serving as the Project Director for the recently announced University of Maine System TRANSFORM project.
Dr. Whitehead shares the comprehensive journey the university has been on in recent years to further ensure UMaine is a welcoming, inclusive place for all. Tim and Dr. Whitehead also discuss how the University and Northern Light Health can keep their work sustainable and not just another initiative. Finally, Tim shares his most valuable lesson from hosting Tim Talk.
This paper has been withdrawn.
Rights Statement