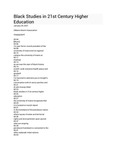 Black Studies in 21st Century Higher Education
Event sponsors included: The McGillicuddy Humanities Center, The College of Liberal Arts and Sciences, Department of Anthropology, Communication and Journalism, Native American Studies, Political Science, Sociology, Women's Gender and Sexuality Studies.
Description
To kick off Black History Month, the University of Maine Black Student Union and the Alumni Association discussed the relevance and impact of Black Studies in 21st Century Higher Education featuring Dr. Sonia Sanchez and Dr. John Bracey. The session and Q+A discussion were moderated by current UMaine Chemistry Ph.D. Student: Lauren Babb.
A machine-generated transcript is available by clicking the Download button.
This paper has been withdrawn.
Rights Statement