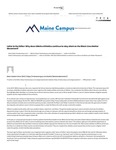 Letter to the Editor: Why does UMaine Athletics continue to stay silent on the Black Lives Matter Movement?
Description
In the 2019-2020 school year there are a reported 164 African American identifying students currently enrolled at the University of Maine. This represents about 2%of campus, while Black students represent a clear majority of the student athlete community at UMaine. At an institution like UMaine where the only class offered that highlights Black identities is an introduction to African American history course, we are left to wonder if there is a lack of cohesion between obligation towards students and the responsibilities of the university.
This paper has been withdrawn.
Rights Statement