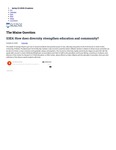 S3E4: How does diversity strengthen education and community?
Description
The death of George Floyd is just one of several incidents that pushed issues of race, diversity and justice to the front burner in 2020. At the University of Maine, President Joan Ferrini-Mundy created a new council to examine where UMaine stands in relation to these issues and what can be done to foster a more inclusive and equitable campus atmosphere. The Council on Diversity, Equity and Inclusion began its work this fall. We speak with council co-chairs Kimberly Whitehead, vice president and chief of staff to the president, and Susan McKay, a professor of physics and director of the Center for Research in STEM Education, or RiSE Center, about efforts to make UMaine and the education it provides more just and reflective of the diverse world students will enter.
This paper has been withdrawn.
Rights Statement