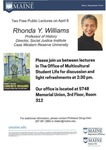 Rhonda Y. Williams Lecture Poster
The content was captured from the webpages of the University of Maine by Matthew Revitt, University Archivist on January 12, 2021.
Description
Poster for Rhonda Y. Williams', professor of history and director of the Social Justice Institute at Case Western Reserve University Howard B. Schonberger Peace and Social Justice Lecture entitled "Concrete Demands: Black Power Histories and Legacies in the 21st Century". The lecture was held on April 6, 2017.
This paper has been withdrawn.
Rights Statement