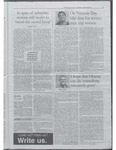 Maine Campus_In spite of adversity, woman still works to 'mend the sacred hoop'
Extract from full edition available in Digital Commons.
Description
Editorial from the University of Maine student newspaper The Maine Campus regarding the dedication of the Martin Luther King plaza and the experiences of the author following a sexual assault and her thoughts on racism.
This paper has been withdrawn.
Rights Statement