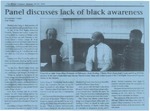 Maine Campus_ Panel discusses lack of black awareness
Extract from full edition available in Digital Commons.
Description
Article from the University of Maine student newspaper The Maine Campus regarding a panel discussion on Martin Luther King Jr. as part of a Civil Rights Awareness Program.
This paper has been withdrawn.
Rights Statement