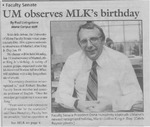 Maine Campus_ UM observes MLK's birthday
Extract from full edition available in Digital Commons.
Description
Article from the University of Maine student newspaper The Maine Campus regarding the University of Maine Faculty Senate agreeing to observe Martin Luther King Jr. Day as a holiday. Also, includes the agenda for the Martin Luther King Jr. Birthday Celebrations at the University.
This paper has been withdrawn.
Rights Statement