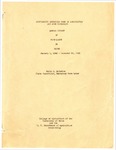 Files
Download Exhibit I, Report Form, County Farm Labor Program (466 KB)
Download Exhibit II, Aroostook County Report (1.1 MB)
Download Exhibit III, Portland Area Recruitment Procedure (1.5 MB)
Download Exhibit IV, Canadian Procedure - 1945 (257 KB)
Download Exhibit V, Recruiting Kentucky Workers (1.2 MB)
Download Exhibit VI, Payroll and Compliance Procedures (728 KB)
Download Exhibit VII, Report of the Women's Land Army in Maine (360 KB)
Download Exhibit VIII, Report of Victory Farm Volunteers (2.4 MB)
Download Exhibit IX, Prisoners of War Procedure (258 KB)
Download Exhibit X, Publicity and Newsclippings (8.2 MB)
Download Receipts for Equipment Lost, Rented, Sold, Burned (61 KB)
Description
A report of the Farm Labor Bureau submitted by Director Arthur L. Deering for the year 1945. Several sections provide information on the organization and personnel, cooperation of other organizations and agencies, determination of county needs, local mobilization and recruitment, procedure of placement of workers, clearance of workers between counties, operation of camps, utilization of special groups, prisoners of war, Newfoundlanders, Jamaicans, Canadians, other activities, and suggestions for improvement in 1946.
Several appendices provide additional information on each topic and a final section of newsclippings that appeared during the year.
Part of UA RG 006.008, Cooperative Extension Service Records, Fogler Library Special Collections and Archives (Box 52, folder 34).
Publication Date
12-31-1945
Keywords
agriculture, World War II, Maine, labor shortage, food shortage, Womens Land Army, Victory Gardens, German, Prisoners of War, federal programs
Recommended Citation
College of Agriculture of the University of Maine and U.S. Department of Agriculture, "Cooperative Extension Work in Agriculture and Home Economics, Annual Report of Farm Labor in Maine, January 1, 1945-December 31, 1945" (1945). Maine POW Collection. 30.
https://digitalcommons.library.umaine.edu/pow/30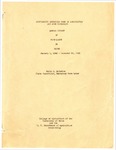 Rights Statement